2017 CDIO Aachen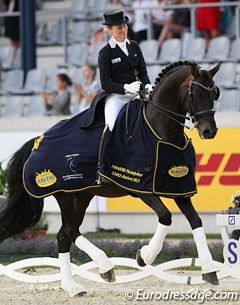 Aboard the American owned Hanoverian licensed stallion Damsey, Helen Langehanenberg most likely rode herself back onto the German team by winning the 4* Grand Prix class on the opening day of competition, Wednesday 19 July 2017, at the 2017 CDIO Aachen. By riding on the edge of the knife, Helen and Damsey scored 75.90% to win the class and beat Isabell Werth on Emilio.
Helen Langehanenberg is familiar with that feeling of the German national anthem playing or her in the Deutsche Bank Stadium in Aachen. She experienced it often enough with Damon Hill, but that was more than three years ago. Helen was out of the spotlight and not up for German team selection since she ended her collaboration with Damon Hill's owner Christian Becks at the end of the summer of 2014. Though she was hoping and working for that major come back for three years, when the moment finally came in Aachen yesterday, she was simply speechless that it happened again. And it brought not only tears to her eyes.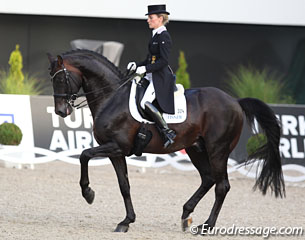 Helen Langehanenberg is back in the fast lane. "Winning in Aachen is always something very special!" Her new horse for the big tour is Louise Leatherdale's Damsey FRH (by Dressage Royal x Ritual). She has been riding him for a year and a half, taking over the ride from Steffen Frahm. Since then they have continually improved, "with a few ups and downs," as the rider commented, but always with an upward trend. Winning the 4* Grand Prix in Aachen was the crowning glory as the class served as an important German team selection trial for the 2017 European Championships in Gothenburg.
Helen rode Damsey with guts and bravura. Daring trot extension, good rhythmical piaffes, a huge extended walk and much energy and expression throughout earned her top marks. The collected walk was lateral though and overall the dark bay could have chewed more on the bit, but Helen produced very strong riding with an outstanding final centerline. They scored 75.900% for the victory.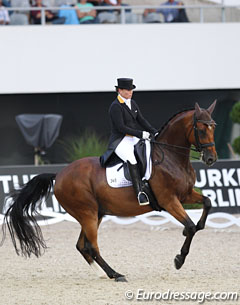 Olympic gold-medallist Heike Kemmer called over to Helen as she walked by: "I would have given you 78 percent!" The rider herself was as good as speechless. Her cheeks were shining. "I came here with the intention to win. And he played along so well and fought so hard for me… I am so proud of him and how we have come together so well!" The next goal is obvious: To deliver a similar performance again on Friday in the Grand Prix Spécial.
Langehanenberg's victory was all the more significant, because she relegated dressage queen Isabell Werth to second place. Werth did not have her Westfalian gelding Emilio (by Ehrenpreis x Cacir AA) on point. The six-time Olympic gold-medallist made extremely costly mistakes in both the one and two tempi changes and in the passage Emilio's hindlegs trailed. As a result, the pair who is so used to victory, had to make do with second place. They scored 75.040%.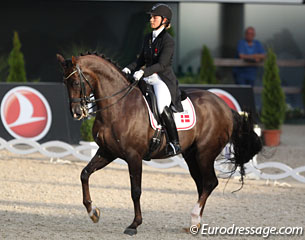 Danish Anna Kasprzak was ecstatic to finish third on a very fit, willing and fresh 18-year old Donnperignon (by Donnerhall x Mozart).  Kasprzak has been sparing her seasoned equine partner this 2017 show season, mainly because of an injury and some dental work which the horse had undergone but the double Olympian hopes to produce their swan song at the 2017 European Championships. The duo celebrated a come-back in Aachen and managed to score 74.320% for third place. Though tight in the neck, Donnperignon showed lovely passage work and two tempi changes. There was some loss of quality in the walk and a loss of rhythm in an extended trot, but the liver chestnut gelding was on great form, active and forward. 
Text and Photos © Astrid Appels - Quotes © CHIO Aachen - No Reproduction allowed
Eurodressage's Astrid Appels is on the scene taking photos at the 2017 CDIO Aachen - If you are interested in prints or digital files for your social media, email us.
Related Links

Scores 2017 CDIO Aachen
Kasprzak and Quarton Impress the Judges and Win 2017 CDIO Aachen Prix St Georges