Australian Dressage News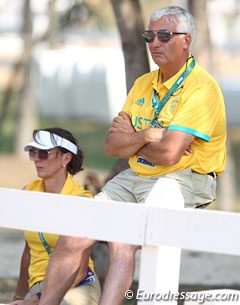 The Australian Equestrian Federation (EA) has decided not to renew its contract with Ton de Ridder for him to maintain his position as dressage team advisor of the Australian Grand Prix team.
Equestrian Australia has not yet released a statement on ending of the contract, nor did they ever release an official statement on De Ridder's appointment back in 2009.
The Aachen based De Ridder fulfilled the role of team captain, chef d'equipe, team trainer and team dressage advisor.
"I am totally devastated to hear that Ton De Ridder will no longer be our team advisor. He has been the most amazing support to our team and has always been there for every one of us. For me personally his help has been invaluable," said Australian 5-time Olympian Mary Hanna. "We now have no Chef D'Equipe, no team trainer, no dressage High performance manager and absolutely no leadership or plan for the future that I am aware of. These are dark days for Australian Dressage."
According to Hanna, De Ridder was given EA plenty of time to make a decision on the extension of his contract. "He was still helping and advising for no charge and waiting to see if it could be renewed," Hanna told Eurodressage. "He was still helping and advising for no charge and waiting to see if it could be renewed."
Two-time Australian Olympic team rider Lyndal Oatley chimed in: "A super sad day for Australian dressage," she stated. "Ton De Ridder has been there for many years ready to help whenever he could and offer his insight. Our training camps with Ton always added the polish needed for the championships. His eye for the details is second to none and his input will always stay with me. Those that utilized his amazing knowledge and experience were always the ones that did the best at championships.  We have lost such a key to the future development of our sport and our credibility over here. He helped us into getting into competitions which I stress now is not going to be easy."
On a more personal note, Oatley added that De Ridder was a great support to her. "He stayed awake with me and Sandro boy until 4 in the morning when he was unwell at the World Cup Final," she said. "He made sure anyone who could help helped and did everything he could. I would not have competed there without him. His care did not stop there as he waited for me to finish in the super early morning to walk me back to the hotel so I was safe."
Photo © Astrid Appels
Related Links
Hiroshi Hoketsu Acquires Brioni W as 2016 Rio Olympic Hopeful
Sibling Success, De Ridder Style, at the 2014 CDIO Vidauban
Prepartion for a Competition by Ton de Ridder
Ton De Ridder Resigns as Dutch Junior/Young Rider Team Trainer
Fire at Alexandra Simons-De Ridders' Rossheide Farm
New Board and Chair for Australian Equestrian Federation