2017 World Championships for Young Dressage Horses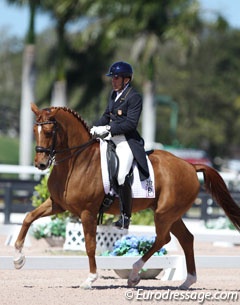 U.S. Grand Prix rider Cesar Parra and the 7-year old Westfalian gelding GK Don Cesar will be the sole combination representing the U.S.A. at the 2017 World Championships for Young Dressage Horses in Ermelo, The Netherlands, on 3 - 6 August 2017.
The United States Equestrian Federation could only find one candidate that had achieved its qualification scores and was actually willing to make the investment and fly across the Atlantic to compete at the prestigious World Breeding Championships for young dressage horses. 
Parra and GK Don Cesar achieved the selection criteria in the FEI 7-year old young horse classes at the CDI's and CDN's in Wellington, Florida, in the winter and spring of 2017. 
GK Don Cesar is a 7-year gelding by Desperados x Manhattan. He is owned by GK Elite Sport in partnership with Parra's wife Marcela Ortiz, who received the chestnut as a 25th wedding anniversary present. Ortiz first saw Don Cesar as a foal in Germany, and Cesar's friend Mathieu Beckmann predicted the future, naming the foal Don Cesar.  The couple bought the horse when he was a 3-year old.
In 2016 Cesar and Don Cesar were the reserve champions at the U.S. Young Horse Championships in the 6-year old division. They are now looking forward to representing the U.S.A. at the 2017 World Young Horse Championships.
"I am absolutely looking forward to Ermelo," said Parra. "I think my horse is a future star for Grand Prix and I think this experience will be so valuable for him.  I am looking forward to competing with the best in the world.  I would love to finish in the top 5, but more than anything I want this to be a positive experience for our horse and I hope that he enjoys it as much as I will."
Don Cesar will fly to The Netherlands next week and stay in Harskamp, close to the show venue, in preparation of the event.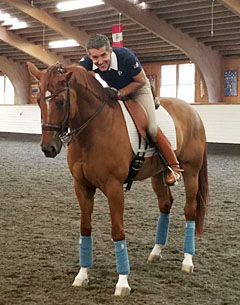 "I want stay close to the showgrounds to limit the amount of travel he needs to do during such a short time.  We will be training with Dieter Laugks and I always will have in the corner my eyes on the ground for the last 17 years, Katie Riley," said Parra. 
Sponsor Nicoletta Ghribi of GK Elite Sport is proud that one of her horses will be competing at an intercontinental championship for the first time since she and Parra began collaborating. 
"I feel of course proud for Cesar andn of coursen for GK Don Cesar because the hard work has paid and they deserve to live this experience and also for the fact that they are the only pair representing US," said Ghribi. "As a former athlete I know how important it is to participate at very high level competitions and in dressage even more because both rider and horse can grow up in consistency and wisdom. I was almost sure that also Katie Riley with GK Sir Beckmann could have been participating at this event, but so it is not and we are lucky that they will show up in Chicago at the Nationals again. My expectations are my wishes to Cesar and GK Don Cesar: to enter the arena's centerline with responsibility, wisdom, self-awareness and joy in order to enjoy the minutes of the program respecting the horse and going back home safe and sound and happy knowing that they gave their best and that we at GK Horses are just at the beginning of something wonderful."
Related Links
Eurodressage Coverage of the 2017 World Young Horse Championships 
Parra's Don Cesar Take First Steps in 7-Year old Division, Ermelo as Goal
Parra's Fashion Designer and Don Cesar Bag Reserve Champion's Title at 2016 U.S. Young Horse Nationals
GK Horses Officially Presents Dressage Project at Four Seasons in Florence
Cesar Parra and GK Horses Sign Exciting Partnership Pact