Swedish Dressage News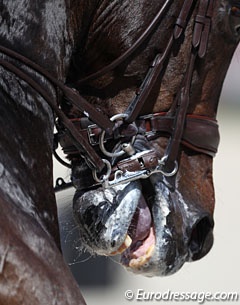 The organizers of the Falsterbo International Horse Show have decided to film the warm-up as a pre-emptive measure. The 2017 CDIO Falsterbo takes place this week with national young and developing horse classes during the week and the CDI classes as of Thursday 13 July 2017.
In the past few years photo and video footage appeared on social media alerting the world of hard and incorrect riding in the warm-up of the Falsterbo arena. Especially equine welfare website Epona.tv and its proponents have been traveling to Falsterbo to observe and report from the scene. 
Johan Lenz, Falsterbo show director, told Swedish magazine Hippson that the warm-up will now be filmed, mainly to have the footage on record in case of issue. 
"It is not that there will be someone sitting and watching it or going through the material, but it will be possible to see the recordings if it were to be necessary," said Lenz, who believes riders will appreciate the footage in case they are being accused of bad riding.
At this point not all cameras have been installed and are operation. "We have not yet received them, but they will be in place by Thursday when the international classes start. Hopefully before that we'll have time to test them," Lenz added. 
The warm up of the young horses has not been filmed. "Almost always the riders of international classes when a discussion arises," said Lenz.
Source: Hippson
Related Links
Andreas Helgstrand Back in the Hot Seat after Publication Falsterbo Training Photos
Russia to Field Team for 2017 CDIO Falsterbo Nations' Cup
Danish, German and American Riders Entered for 2017 CDIO Nations Cup in Falsterbo
Photo Report: 2012 Falsterbo Young Horse Classes
Day One at Falsterbo: A Day of Coincidence and a Pale Anything but Pale