2017 Excellent Dressage Sales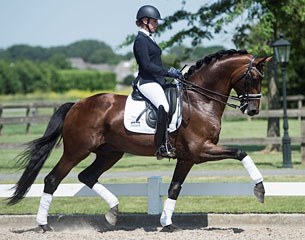 An impressive collection of foals and sport horses will go under the hammer at the second edition of the Excellent Dressage Sales held with support of the KWPN society at the 2017 World Young Horse Championships in Ermelo, the Netherlands, on 5 August 2017. The organisation selected twenty-one top foals and seven sport horses. For the first time, this year's collection includes an embryo.
The unique partnership between the KWPN and the EDS organisation, consisting of Nico Witte, Joop van Uytert, Joep Schellekens and Tim Coomans, generated a turnover of more than 1.7 million euro. The auction is organised during the World Breeding Dressage Championships for Young horses, that takes place in Ermelo from 3 - 6 August 2017. 
Interesting bloodlines
"Last year we already had a solid collection with horses such as Four Legends, several international sport horses and the incredible mover Lady Jane. It is evident that the bar was set high, yet we succeeded to compose an even better overall collection. We selected a collection that caters for all tastes," says the organisation.
An eye-catching name in the collection is the stallion Barroso (s.Bordeaux). The approved stallion that competes on behalf of Belgium, qualified himself through three victories in the selection rounds for the World Breeding Dressage Championships for Young Horses. The selected foals originate from established lineages. The KWPN-stallion Toto Jr. provides two offspring: Macho (ds.Charmeur) and Movie Star Texel (ds.Negro). Out of the dam of the recently KWPN-approved stallion Just Wimphof we have Macho van de Wimphof, a spectacular moving colt by Franklin. Last year, the full brother of Valegro moved to a new stable for 50.000 euro. This year an embryo out of the full sister of Valegro paired with the stallion Painted Black, will be for sale in the auction. A highly interesting combination for every dressage enthusiast.
Franklin main supplier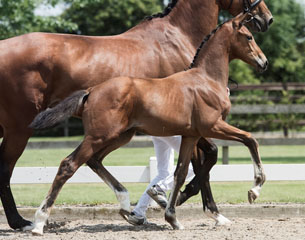 Featuring five of his offspring in the EDS collection makes the KWPN-approved stallion Franklin (s.Ampere) the main supplier. Each and every one of his daughters and sons are endowed with a remarkable conformation and strong movement techniques. One of the descendants is the mare J'Adore, she received no less than 80 points for conformation and 80 points for movement at the studbook inspections. She moves with a lot of technique, displays great hind leg use and lots of expression. J'Adore scored 85 points for both her trot and canter. And there are more potential candidates for the National Mare Championships: Jindy (s.Ferdaux) obtained the top score of the day with 80/85 at the studbook inspections in Wamel and also the mare Jendelin (s.Charmeur) raises the expectations with her strong type, appealing front and suppleness.
For the collection and more information please visit our website at www.excellentdressagesalescom.
Related Links
2016 Excellent Dressage Sales in Ermelo: Four Legends Absolute Top Seller
San Diamantino, Top Seller of the 2017 Excellent Dressage Sales