German Dressage News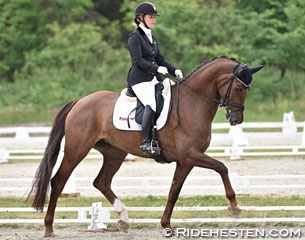 Victoria's Secret, the 2016 World Young Horse Champion under Beatrice Buchwald, will not be shown at the second German WCYH team selection trial in Warendorf, Germany, on 12 July 2017, to which the title defender was invited for presentation and selection.
The 6-year old Rhinelander mare Victoria's Secret (by Vitalis x Fidermark) sustained a minor tendon injury and is currently recovering
"Ups and downs! Vicky won't go to the WCYH selection in Warendorf next week because she sustained a small injury. We had hoped that it would heal quickly but when it takes time, it takes time," the mare's current owner and rider Anna Kasprzak explained. "It's a superficial injury, but the scan showed that she needs a week break. This is super annoying, but she needs to recover 100% before I start riding her again Hopefully we can slowly start riding again next week and then come back strongly."
After the 2016 World Championships, Victoria's Secret immediately sold to Andreas Helgstrand and his business partner Bolette Wandt, who soon after resold the mare to Danish Olympian Anna Kasprzak.  
The new duo qualified for the 2017 Danish Young Horse Championships at a selection trial in Billund on 11 June 2017, but on transport home the mare either knocked herself or took a wrong step and sustained this injury. 
Kasprzak was able to share some positive news as well: they successfully flushed an embryo by Franklin from this mare.
Photo © Ridehesten
Related Links
Horses Selected for Second German Trial for 2017 World Young Horse Championships
Hesselhoj Donkey Boy, Victoria's Secret, Fiontini Win 2016 Danish Young Horse Championships
Victoria's Secret Sold to Anna Kasprzak
World Champion Victoria's Secret Sold to Denmark
Victoria's Secret Wins 5-Year Old Finals at 2016 World Young Horse Championships