2017 Bundeschampionate Qualifier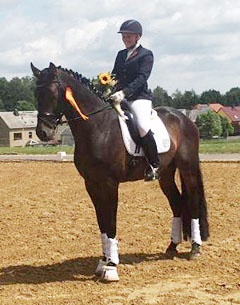 The 5-year old Renegade S and the 6-year old Bankery Gwere the winners of the Bundeschampionate qualification classes held at the Saxonian and Thuringian regional championships in Burgstädt on Sunday 2 July 2017. Four instead of the usual three judges officiated in the L and M-level dressage horse tests: Frank Diener, Karlheinz Belke, Dierk Groth and Gabi Schlicht (5yo) or Simone Bothe (6yo).
Pia Voigtländer and Sarah Scherwitzki's Oldenburg stallion Renegade S (by Rock Forever x Stalypso) topped the board with 8.2. The dark bay stallion scored 8 for walk, trot and canter and 8.5 for submission and general impression. Ilsemarie Berkenbusch and Ludwig Fischer's Hanoverian mare Dakota (by Diamond Hit x Londonderry) were second with 8.0. The chestnut mare got 8 for walk and canter, 7.5 for trot, 8.5 for submission and 8 for general impression. 
Only six horses contested the 6-year old division and none of them achieved the selection criterium for Warendorf. The winner of the class was Stefan Puschmann on Birgit Lattermann's Westfalian gelding Bankery G (by Bordeaux x Stedinger) with 7.6. The black gelding got 7.5 for walk and canter, 8 for trot and 7.5 for submission and general impression. Kay Pawlowska and the German Sport Horse bred stallion Santo Domingo (by San Amour x Furst Heinrich) were second with 7.3. The state stud Moritzburg owned stallion got 6.5 for walk, 7.5 for trot, 8 for canter, 7 for submission and 7.5 for general impression.
Results - 2017 Bundeschampionate Qualifier - Burgstädt
5-year olds
1. Renegade S (by Rock Forever I x Stalypso) - Voigtländer,Pia-Katharina - 8.20
2. Dakota  (by Diamond Hit x Londonderry) - Berkenbusch,Ilsemarie -  8.00 
3. Quick Step  (by Quaterback x Paradiesvogel) - Kage,Tina - 7.70
4. Donna Cheri  (by Don Juan de Hus x Mon Cheri) - Puschmann,Stefan - 7.60 
5. Finest Dream  (by Foundation x Cartier) - Voigtländer,Pia-Katharina - 7.40
6. Rhonda  (by  Decamerone x Rubinstein) - Berkenbusch,Ilsemarie -  7.20
7. Miorello  (by Millennium x Drakdream) - Anton-Eger,Romy - 6.60
7. Déjá-vu (by Decurio x Laudabilis) - Dinter,Lisa-Marie -6.60
 6-year olds
1. Bankery G  (by  Bordeaux x Stedinger) - Puschmann,Stefan -  7.60 
2. Santo Domingo  (by San Amour x Fürst Heinrich) - Pawlowska,Kay - 7.30
3. First Kiss  (by  Lord Fantastic x Eklat) - Schneider,Alina- 7.20
3. Big Bang  (by Boston x Pik Bube) - Weber,Maja -  7.20 
5. China  (by Laspari x Caretino) - Herrmann,Steffen - 6.50
6. Staccato (by Sarkozy x Lewinski) - Flechsig,Christian - 5.60
Related Link
Eurodressage Coverage of the 2017 Bundeschampionate