2017 CDIO Rotterdam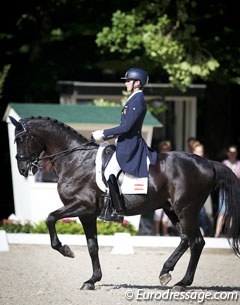 Juan Matute Guimon, a 19-year-old dressage prodigy who lives in Wellington, Florida, and rides for Spain, won the Under 25 Kur to Music held at the 2017 CDIO Rotterdam on 22 - 25 June 2017. Matute Guimon rose to the top in a field of 12 competitors, that was mainly Dutch and had four riders from abroad, after being the runner up in the warm up Inter II the day before.
Matute Guimon and Yeguada de Ymas' 14-year-old Hanoverian gelding Don Diego (by Don Frederico) placed second in the Intermediaire II with 69.488%, accepting  German Anna Louise Fuchs on the chestnut Rodrigos EH ahead of him (70.093%). However the tables were turned in the Kur to Music in which the Spaniard scored a personal best of 76.015% to win the class, edging out Dutch Jeanine Nieuwenhuis on TC Athene (by United) with 73.650%.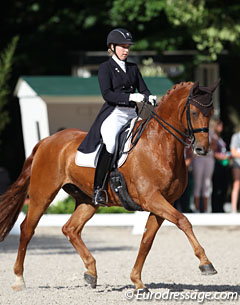 Juan rode to a medley of songs, but with Feeling Good as leading tune.  "Don Diego Ymas and I entered the arena with the attitude of a champion. We knew that if we wanted to win we had to give it our absolute best. We had a totally mistake free test and there was lots of harmony and power!" said Matute Guimon.
The young Spaniard is looking forward to saddling up next at CHIO Aachen with an eye trained on competing at the 2017 European Under 25 Championships in Lamprechtshausen, Austria at the end of the summer.
Photos © Astrid Appels
Eurodressage's Astrid Appels was on the scene taking photos of all dressage riders. If you are interested in digital files or prints for personal use, social media, etc. contact us. 
Related Links
Scores 2017 CDIO Rotterdam
Laura Graves Shines In Tropical Grand Prix Thriller at 2017 CDIO Rotterdam
Emmelie Scholtens and Apache Take First Stand in 2017 CDIO Rotterdam 3* Grand Prix