2017 Bundeschampionate Qualifier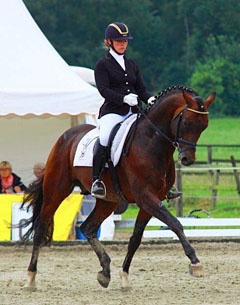 The 5-year old Don Martillo and the 6-year old Budhi were the winners of the Bundeschampionate qualification classes held at Catrin and Knut Wingender's equestrian centre Silverthof in Oer-Erkenschwick, Germany, on 23 - 25 June 2017. A good field of 29 horses in total gathered for the qualifier.
In the 5-year old division the Hanoverian licensed stallin Don Martillo (by Don Juan de Hus x Benetton Dream) aced the class with an 8.4. After Anna Sophie Fiebelkorn decided to focus more on training down under, the ride on Don Martillo has been returned to Ann-Christin Wienkamp who also rode him in 2016. Wienkamp also placed second on the Westfalian stallion Duvalier (by Don Juan de Hus x Belissimo M) on a score of 8.0.
Hof Kasselmann's stable jockey Nicole Wego steered the PSI auction horse Budhi (by Bordeaux x Likoto xx) to a first place in the 6-year old division. The pair won the class with 8.1 and edged out Johanna Klippert on the Westfalian stallion Rock it All (by Rock Forever x Freudenprinz) with 8.0.
Results - 2017 Bundeschampionate Qualifier - Oer-Erkenschwick
5-year olds
1. Ann Christin Wienkamp - Don Martillo  (by Don Juan de Hus  x Benetton Dream) -  8.4 
2. Ann­Christin Wienkamp - Duvalier  (by Don Juan de Hus  x Belissimo M) -  8 
3. Stefanie Wolf - Arango H (by Apache x Fidermark) -  7.7 
3. Charlotte Corinna Koeppen - Feiner Frosch L  (by Fürst Donnerbube x Dramaturg) -  7.7 
5. Claudia Rüscher - Celerina  (by Chagall x Davignon) -  7.6 
6. Carde Meyer - Be my Sunshine M  (by Belissimo M x Walt Disney) -  7.5
7. Johanna Klippert -  Finley Rock  (by  Franziskus x Rock Forever) -  7.4
8. Jennifer Hoffmann - Frisco  (by Fürstenball x Stedinger) -  7.3
9. Philipp Ruwe - Apollo HS  (by Apache x Davignon II) -  7.2
9. Claire­Louise Averkorn  - Free Jazz  (by Foundation x Jazz Time) -  7.2
11. Sabine Egbers - Fidermond (by Fidertanz x Danone) -  7.1
11. Philipp Ruwe - Flip Flop  (by Fürstenball x Serano Gold) -  7.1
13. Wibke Hartmann- Findelkind  (by First Selectionx Donnerschlag) -  6.9 
13. Johanna Klippert - Blue Button  (by Bordeaux x Florestan) - 6.9
15. Susanne Brinkmann-  Filander  (by Floriscount x Weltmeyer) -  6.7
16. Achim Ostermeyer - Die Callas  (by Desperados x Westernhagen) -  6.6
16. Nico Kapche - McD Quality Lad  (by  Quaterback x Focus) - 6.6
6-year olds
1. Nicole Wego- Budhi  (by Bordeaux x Likoto xx) - 8.1 
2. Johanna Klippert - Rock it all  (by Rock Forever I x Freudenprinz) - 8 
3. Eva Niklova - Dallas  (by Desperados x Rubinstein) - 7.7 
4. Marco Fernandez ­Sanchez - Poleggio­Boy VDH  (by Poleggio x Sandro Hit) - 7.6 
4. Carde Meyer - Surabaya M S (by  San Amour x Davignon) - 7.6 
6. Manuel Dominguez Bernal - Langley  (by  L'Espoir x Rimini) - 7.5 
7. Andrea Timpe - Rosenquarz K  (by Romanov x Wolkentanz) - 7.4 
8. Franziska Lisanne Paschke - Davie's Dancer  (by Danone I x Lauries Crusador xx) - 7.3 
9. Antonio Do Vale - Jackpot HS  (by Johnson x Dr.Jackson D) - 7.2 
10. Emile Faurie - Hot Hit  (by  Hotline x Diamond Hit) - 7 
11. Johanna Klippert - Slogan  (by  Schumacher x Florestan) -  6.7 
Claudius Becher - Deneuve  (by  Demirel x Brentano II) - RET
Related Link
Eurodressage Coverage of the 2017 Bundeschampionate