2017 PS Online Foal Auction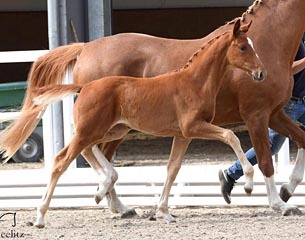 Paul Schockemöhle is launching the first online foal auction in Germany at ps-online.auction! On 15 June at 12:00, the PS-Online.Auction will begin. The experienced Schockemöhle team has put together a selection of 25 top-class foals. The youngsters are all offspring of Deckstation Schockemöhle stallions – from the Olympic champion Big Star to the winner of the Nurnberg Burgpokal finals Vitalis.
So here's how it works: From 15 June at 12:00, the foals can be seen on ps-online.auction – with videos, photo and description, breeding and veterinarian inspection report. Whoever wants to bid can just register in a few clicks and submit their bid. The bidder will be informed by e-mail or SMS (optional) if he is the highest bidder or if someone else has bid higher. The online auction ends on 25th June. For further information, please visit: ps-online.auction
If you have any further questions, feel free to contact the Deckstation Paul Schockemöhle in Mühlen, phone: +49-(0)5492-960100 or e-mail:deckstation@schockemoehle.com
Auction Foal in the Spotlight: Cat nr. 21: Fandango
Born 10 March 2017 - Dark bay colt by Furstenball x Londonderry x Weltmeyer - Hanoverian registered
Breeder: Christine Tegelmann - Foal Veterinary Report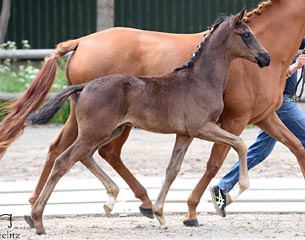 Highly valuable Trakehner mare family O100 Elfe 742 (titled Elite Mare, by Adamas ox etc.; by Lenski-Kattenau). Over 20 licensed stallions descend from this line, including Eichendorff, Eisvogel, El-Zid, Element of Surprise (USA), Elfado, Elfenglanz, Elfenspuk, Eligius (USA), Elitär, Elfengeist (licensing champion), Eloquent, Ergo, Erzsand, Ethos (USA), Etong, Exclusiv and Extravagant.
Auction Foal in the Spotlight: Cat Nr. 23: Fürstin Dream
Born 17 March 2017 - Chestnut filly by Fursten-Look x De Niro x Warkant - Hanoverian registered
Breeder:  Gabriele Bechstein - Foal Veterinary Report
Closely related to Diva Royal (by Don Frederico), Dorothee Schneider's Olympic horse (Team silver London 2012) by Han. line 629/Jepuza, from which descend the licensed stallions Call Me Paul, Qaiser (privately owned DK), Robespierre (Ldb. Celle) and Sir Schölling (privately owned Westph., SWE). 
For more information on the entire collection, visit ps-online.auction