2017 Finnish Dressage Championships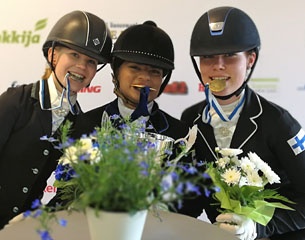 Pony rider Amudha Huttunen, junior rider Ida-Lotte Peltoniemi, young rider Ella Paloheimo and Grand Prix rider Stella Hagelstam became the grand champions and titlists at the 2017 Finnish Dressage Championships held in Ypaja, Finland, on 8 - 11 June 2017. The Finnish Nationals were held over two rounds and the points totaled determined the final ranking for the podium places.
Eighteen pony riders came to Ypaja to battle for a podium place and Amudha Huttunen took the gold after placing second in the team test (68.821%) and winning the freestyle (72.740). Her partner in crime is the 16-year old Finnish bred sport pony Pin Rock's Hannibal (by Speyksbosch Naturel x Laeruds Benson). Jenni Silventoinen and the 15-year old Hazelberg's Macho got silver after scoring 69,410% and 70,66%. Eveliina Havinen and her 19-year old Ronaldo (by Mr Bentley x Coed Coch Barwn) got bronze with 66,897% and  69,365%. 
"It was a close race, which made it interesting," said the 16-year old pony champion Huttunen. "I tried to reset the situation from yesterday and rode as well as I could in the Kur. The canter was really good. Hannibal is a very reliable pony and a good schoolmaster. It's nice to ride him, he does everything the rider asks as long as you try. He does nothing automatic."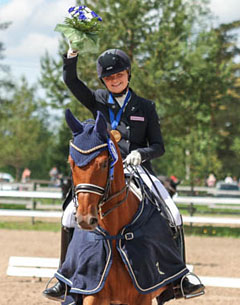 Ypaja based Ida-Lotte Peltoniemi reigned supreme in the junior riders' division, which brought together a field of no less than 28 riders. Aboard Karita Kotikulma's 13-year old Poirot (by Playboy x Mezon), she won the team championship test with 68.324% and the kur to music with 72.320%. Coached by Kiki Nyberg, the 18-year old Peltoniemi scored the gold medal. Daniela Therman and the 9-year old Danish bred Sara Enshoj (by Sting x Salvador) got silver with 66.757% and 71.905%, whereas Lotta Sundberg and her 12-year old Dutch bred Amadeus (by Flemmingh x Jetset D) landed bronze with 67.973% and 70.570%.
"I had a confident feeling, even though we changed the saddle a few days ago and there was a lot of things going on," said Peltoniemi. "I tried my best and this time it was enough to win gold."
Ella Paloheimo and her 14-year old Hanoveroan Wolle Wolkenstein (by Wolkenstein II x Buenos Aires) grabbed the gold in the Young Riders division after scoring 66.500% in the team championship test and 72.145% in the Kur to Music. Rosanna Melametsa and the 12-year old Trakehner bred Hyops (by Hochadel x Peridot) earned silver after winning the team test (66.789%) and placing third in the kur (69.725%). Susuanna Therman and the 12-year old Dragonheart (by Don Frederico x Falkland) finished with bronze. 
"I feared the worst and prayed for the best," said Paloheimo about her chances to win at the Nationals. "After yesterday I was quite nervous, but we made a clean test (in the kur) and I'm really pleased."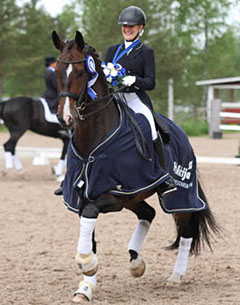 At Grand Prix level twelve riders made the effort of traveling to Ypaja for the Nationals. Biggest absentees were international Finnish Grand Prix riders Henri Ruoste, Terhi Stegars and Emma Kanerva, but this opened the field for Stella Hagelstam to grab her third title in her career. She emerged as surprise winner on a brand new ride, Pin Rock's Foxfire Blitz, a horse she has only been riding for one year. The 9-year old Finnish warmblood gelding (by Fernet x Caritas) won the Grand Prix with 67.740% and the Kur to Music with 72.095%.  Anna von Wendt and her 15-year old Hanoverian gelding Denzel (by Don Frederico x Wonderland) earned silver, while Elisabeth Ehrnrooth and her 15-year old Swedish bred Wizard II (by Wetano x Allegretto) got bronze after a 15-month break from competition. 
"Foxi was very good and fresh in Ypaja," Hagelstam told Eurodressage. "I had him with me as a training horse in Uggerhalne. He felt great after all the traveling so I decided to take him for the Finnish Championships instead of New Hill Julitrea. I really didn't think he could win since he is so new at Grand Prix, but he did absolutely his best and surprised me with the self confidence he had. In the Grand Prix we had a few mistakes but in the freestyle he was super."
Based in Finland and running her own yard with 50 horses, Hagelstam discovered her new shooting start Foxfire Blitz after she put a post on Facebook a year ago that she would love to buy a Finnish bred horse. She received 47 replies and watched videos of many horses. She tried out a couple of them, but Pin Rock's Foxfire Blitz was the one. The dark bay gelding is bred by Ira and Tiina Ristimaki of Pin Rock stud. Stella trains with Spencer Wilton and Bennet Conn.
"I bought Foxi exactly a year ago from an amateur rider in Finland," said Hagelstam. "He had only two show results from L-classes before so he has done an amazing improvement in just 12 months. This was his second show I took him to and his second and third Grand Prix ever, so he is very green but has an amazing rideability and temperament. His father is Fernet, which I competed at the 2008 and 2009 World Young Horse Championships."
Photos © Sonja Holma
Related Links
Scores 2017 Finnish Dressage Championships
Eevamaria Porthan-Broddell Wins 2015 Finnish Grand Prix Championships
Tallberg Wins 2015 Finnish Young Riders Championships