2017 Bundeschampionate Qualifier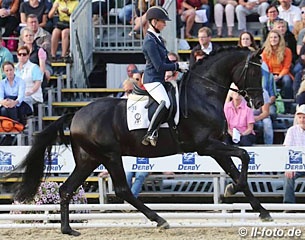 The 5-year old Revenant and the 6-year old First Ampere became the winners of the Bundeschampionate qualification classes held at the regional show in Babenhausen on 10 - 11 June 2017. Twenty-three horses tried to obtain a ticket to Warendorf.
In the 5-year old L-level division Rudolf Widmann steered the 5-year old Westfalian stallion Revenant (by Rock Forever x Sir Donnerhall) to a winning score of 8.4 points. Judges Klaus Storbeck, and Cornelia Albrecht rewarded the dark bay stallion with 9 for trot and canter, 7.5 for walk, 8 for submission and 8.5 for general impression. Gestut Ammerland acquired Revenant at the 2016 PSI Auction for 1.1 million euro. Friederike Schulz-Wallner and the Trakehner mare Arosa (by Kentucky x Gribaldi) were the runners-up with 8.3 points. The liver chestnut mare got 7.5 for walk, 9 for trot, 8 for canter and 8.5 for submission and general impression. 
In the 6-year old M-level division judges Roland Disterer and Thomas Kessler preferred the ride of Tessa Frank on Helmut von Fircks' licensed Hanoverian stallion First Ampere (by Ampere x Weltruhm). The pair scored a winning 8.7 with 9 for walk, trot, canter, 7.5 for submission and 9 for general impression. Enya Müller and the Baden Wurttemberger bred Delecoure (by Diamond Hit x Laurentio) were second with 8.2. The chestnut gelding got 8 for walk and canter, 8.5 for trot, 8 for submission and 8.5 for general impression. 
Results - 2017 Bundeschampionate Qualifier - Babenhausen
5-year olds
1. Revenant (by Rock Forever x Sir Donnerhall) -  Widmann,Rudolf - 8.40 
2. Arosa  (by Kentucky x Gribaldi) -  Schulz-Wallner,Friederike - 8.30 
3. Filou  (by Fürstenball x Sir Donnerhall) -  Müller,Lisa - 8.00 
4. Selfmade  (by San Amour x Lupicor) -  Bachmann,Carina -  7.80 
4. Fürst Douglas  (by Fürstenball x Hohenstein) -  Pfeiffer,Kim -  7.80 
6. Diva  (by Disco-Boy x Montepiano) -  Hesse-Wadenspanner,Geertje -  7.70
6. Bel Ami  (by Boston x Belissimo M) -  Ritzel,Ramona - 7.70 
8. Disco Fox  (by Don Index x  Feiner Graf) -  Frank,Tessa - 7.60
8. Rufus von Nymphenburg  (by Rock Forever ) -  Stricker,Christina - 7.60
10. Quadera W  (by  Quadroneur x Florestan) -  Peter,Susanne - 7.50
11. Billy the Kid  (by Belissimo M x Worldly) -  Ritzel,Ramona  -  7.40
12. Vernissage  (by  Vitalis x Hochadel) -  Block,Mirja - 7.20 
Sympathicus  (by Sir Donnerhall I x De Niro) -  Stricker,Christina - DNS/ELI/RET
6-year olds
1. First Ampere  (by Ampere x Weltruhm) - Frank,Tessa - 8.70 
2. Delecoure  (by Diamond Hit x Laurentio) - Müller,Enya - 8.20 
3. Lady Darcy (by Lord Leopold  x Likoto xx) - Giersch,Joachim - 8.00 
3. Señorita Rosa  (by Sandro Hit x Rohdiamant) - Palomäki,Nina-Maria - 8.00 
5. Rather be Big L  (by Romanov x Laudabilis) - Sessler,Alexandra - 7.70
6. Wish you happiness  (by Boston x Licotus) - Fehl,Aikje - 7.60
7. Doctor Davidson  (by  Don Frederico x Lauries Crusador xx) - Hesse-Wadenspanner,Geertje - 7.50
7. Dorango  (by Demirel x Donnerhall ) - Ruckgaber,Tabea -  7.50
9. Sacramento  (by Son of Cologne x Florestan) - Deak,Zoltan - 7.30
10. DiCaprio  (by Diamo Gold x Hohenstein) - Isser,Nicole - 7.10
Related Link
Eurodressage Coverage of the 2017 Bundeschampionate