Spanish Dressage News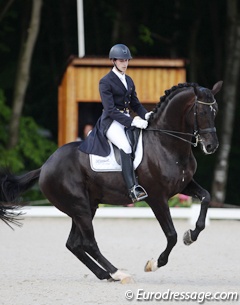 The Spanish Equestrian Federation and selectors Luis Lucio (Technical Director Dressage) and Nicky Barrett (team trainer) have made their pick for the teams that will represent Spain at the 2017 European Children, Junior & Young Riders Championships in Roosendaal, The Netherlands, in August.
The final team qualifier took place last weekend at the 2017 Spanish Grand Prix Championships in Segovia.
The selected combinations are
Children
Jessica Castro Cachinero - Indiferent
Bruno Cid Romero - Brentana
Andrea Montoya Martinez - Original's B Real Meyer
Araceli Pons Sole - Mejorano V
Junior Riders
Alba Abollo Fontela - Elvillar CS
Carla de la Fuente - Fay
Gemma Guerrero Garriga - Airplane
Adrian Roldan Narvaez - Forzento 
Young Riders
Patricia Arroyo Baudet - Bacardi Krogsagergaard
Monica Blazquez Lopez - Flash
Moises Jover Aznar - Black Painted 
Ona Sola Gonzalez Hidalgo - Sirocco
The team reserve will be announced after the CDI Pompadour. 
Photo © Astrid Appels
Related Link
Eurodressage Coverage of the 2017 European Children, Junior & Young Riders Championships