2017 Bundeschampionate Qualifier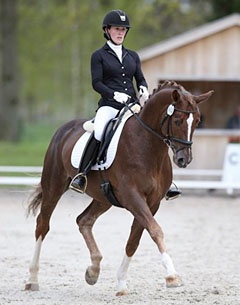 The 5-year old Lavissaro and the 6-year old Glucksruf II became the winners of the Bundeschampionate qualification classes held at the regional show in Wedel, Germany, on 3 - 4 June 2017. Hosted at Catharinenhof equestrian centre, the event had a very good turnout in the 5-year old division and gathered a decent group of 6-year olds.
In the L-level dressage horse test for 5-year olds Sonja Marie Ellerbrock steered the Holsteiner gelding Lavissaro (by Lissaro x Aljano) into the winner's circle with an 8.1 total. Alexandra Bimschas has taken over the ride on the Hanoverian licensed stallion Titolas (by Totilas x Stedinger) from Susanne Krohn and rode the black sto a 7.8 score to finish second. Manuel Bammel and Schmitz and Sahlmann's Hanoverian gelding L'Unique (by Lichtprint x De Niro) were third with 7.7.
In the M-level dressage horse test for 6-year olds the Czech Libuse Mencke rode Gestut Ganschow's Trakehner stallion Glucksruf II (by Dramatiker x Opernball) to victory with an 8.3 score. Sarah Waldsperger (née Garayhi) and Samira Rexrodt's Hanoverian mare Royal Dream (by Royal Classic x Rotspon) were the runners-up with 8.9. 
Photos © Stefan Lafrentz
Results - 2017 Bundeschampionate Qualifier - Wedel
5-year olds
1. Lavissaro (by Lissaro x Aljano) -  Ellerbrock,Sonja -  8.1
2. Titolas  (by  Totilas x Stedinger) - Bimschas,Alexandra - 7.8
3. L'Unique  (by Lichtprinz x De Niro) - Bammel,Manuel - 7.7
4. Sandokan (by  Surprice x Johnson) - Mencke,Libuse - 7.6 
4. Levantino  (by Fürst Romancier x Royal Diamond) - Platen,Maxi Kira - 7.6
6. Christkind  (by Christ x Wanderbursch II) - Garrn,Katalin - 7.5
7. Fernando  (by Foundation x Sandro Hit) - Engeler-Bading,Andrea - 7.3
8. Damon's William FN (by Damon Hill x Johnson) - Giese,Shereen -  7.2
8. Cataleya (by  Chinook x Riccione) - Deitert,Nicole -  7.2
10. Dyavie (by  Danone I  x Welser) - Heuer,Kristina - 7.1
10. Damon  (by Damon Hill x Loutano) - Kindermann,Kornelia - 7.1
12. Crawalll  (by Casall x Cardino) - Hinrichs,Kimberly -  6.8
12. Scarosso  (by Sandorox Wolkenstein II) - Klausing,Heiko -  6.8
Rock Emotion  (by Rock Forever I x Don Gregory) - Hilger,Christin  - RET/DNS
Schwarzenegger L  (by Spörcken x Royal Blend) -  Lindemann,Philipp  - RET/DNS
Imposant  (by All Inclusive x Ovaro) - Neve,Susanne  - RET/DNS
6-year olds
1. Glücksruf II (by Dramatiker x Opernball) - Mencke,Libuse - 8.3 
2. Royal Dream (by Royal Classic x Rotspon) - Waldsperger,Sarah -8.0 
3. Salobre TR OLD (by  Self made x Weltmeyer) - Boer,Paula de -7.8
3. Fräulein Pikolina (by Fürstenball x Prestige Pilot) - Prigge,Elisa - 7.8 
5. Flanell  (by Fidertanz x De Niro) - Bammel,Lena -7.7
6. Quintessenz BS (by Quadros x Contendro) - Wehr,Anna-Lisa -  7.6
7. Darlington  (by Don Frederico x Western Star) -  Bentes,Maren - 7.5
8. Daily Harbour  (by Dancier x Florencio) - Horstmann,Johanna -  7.4
8. Donald T  (by  Danone I x Fidermark) - Svenson,Nadine - 7.4
10. Almaviva H  (by  Ampere x Dolany) - Essig,Marleen - 7.0
11. Claretto (by Clarimo x Caletto I) - von Holdt,Markus - 6.8
Related Link
Eurodressage Coverage of the 2017 Bundeschampionate