2017 World Championships for Young Dressage Horses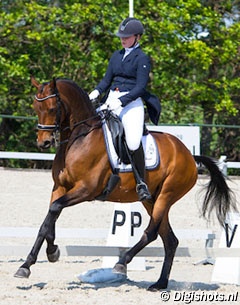 The 5-year old Harm G, the 6-year old Galaxie, and the 7-year old Fossbury became the winners of the fourth and final Dutch selection trial for team selection for the 2017 World Championships for Young Dressage Horses held in Ermelo, The Netherlands, on 3 - 6 August 2017. A nice class of 5-year olds and a considerably smaller group of 6 and 7-year olds contested the final qualifier in Uden on Sunday 28 May 2017 to obtain qualification for the semi-finals.
The Semi Finals will take place n n Etten Leur on 16 - 17 June, after which a final group will contest the Finals on 13 and 15 July 2017 at the Dutch Championships.
In Uden in the 5-year old division Cindy van Vugt aced the class aboard the Dutch bred gelding Harm G (by Charmeur) on a score of 8.32 points. The winner of the first selection trial, Spanish Ainhoa Prada Ortiz and the bay mare Hannelinde GLN (by Dream Boy), now landed second place with 82,20 points. Two combinations tied in third place with 8.14 points: Olga Boucher on the home bred Houdini La Haya (by Krack C x Roman Nature) and Belgian Rob van Puijenbroek on Hilltop (by Chagall x Tuschinski).
In the 6-year old category Diederik van Silfhout rode the licensed stallion Galaxie (by Jazz x Future) into the winner's curcle with 8.26 points. Tommie Visser and Gentle Whispering (by Jazz x Rhodium) were quite closely behind the winners' pair on a score of 8.18 points, while Adelinde Cornelissen and Goodman RWP (by Jazz x Lancet) was third on 80.0 points.
Only two combinations came to Uden for the 7-year old division so it was an easy win for Carlijn Vaessen and Fossbury (by Ampere x Sandro Hit) on a score of 73.87%, while Barcelona based Spaniard Agusti Elias was second with Fifth Avenue (by Romanov x Jazz) on 72.85%.
Photo © Digishots
Results - 2017 Dutch WCYH Qualifier - Uden
5-year olds
1. Cindy Van Vugt - Harm G  (by Charmeur) - 83,20
2. Ainhoa Prada Ortiz - Hannelinde gln  (by Dream Boy) - 82,20
3. Olga Boucher - Houdini la Haya  (by Krack C) -  81,40
4. Rob van Puijenbroek - Hilltop  (by  Chagall ) - 81,40
5. Emmelie Scholtens - Hero  (by Apache) -  81,00
6. Diederik Van Silfhout  - Highfive  (by Olivi)-   80,40
7. Annemiek van Venrooij -Hotmail  (by Apache) -  80,00
8. Emmelie Scholtens - Havanna  (by Vivaldi) -  80,00
9. Esmee Van Gijtenbeek - Hot chocolate  (by Apache) -  79,60
10. Olga Boucher - Hymne la Haya  (by Johnson) -  78,80
11. Marjan Hooge - Homerus p  (by Negro) -  75,20
12. Pim Candel - Harvard (by  Jazz) -  74,40
13. Sabine Van den Heuvel - Hugo  (by Charmeur) -  73,80
14. Minke Tange Brand - Highlight  (by Johnson) -  73,70
15. Nicky Snijder - Havanna  (by  Jazz) -  73,40
16. Marjan Hooge - Hamilton j.  (by Bretton Woods) -  70,00
17. Samantha Van der Lof - Scott Eastwood (by Sir Donnerhall) -  70,00
6-year olds
1. Diederik Van Silfhout - Galaxie  (by Jazz) -  82,60
2. Tommie Visser - Gentle  (by Jazz) -  81,80
3. Adelinde Cornelissen - Goodman  (by  Jazz) -  80,00
4. Charlotte Fry  - Crosby  (by Chippendale) -  79,80
5. Lotje Schoots - Grace of Rose  (by Jazz) -  77,40
6. Laurens Van Lieren - Grandeur (by ?) -  77,20
7. Joyce Van Schaick - Glendale  (by Ampère) -  75,60
8. Mercedes Verweij - Gizmo  (by United) -  72,20
9. Stephanie Kooyman - Grandia's gordon  (by Johnson) -  70,20
7-year olds
1. Carlijn Vaessen - Fossbury - 73,87
2. Agusti Ellias - Fifth Avenue BCN -  72,85
Related Links

Eurodressage Coverage of the 2017 World Young Horse Championships
Haute Couture, G-Point, Ferdeaux Win Third Dutch Trial for 2017 World Young Horse Championships
Henkie, Governor, Fleau de Baian Win Second Dutch Trial for 2017 World Young Horse Championships 
Hannelinde, Dodge Raider, Flanell Win First Dutch Trial for 2017 World Young Horse Championships 
Dutch Selection Process for 2017 World Young Horse Championships Released