German Dressage News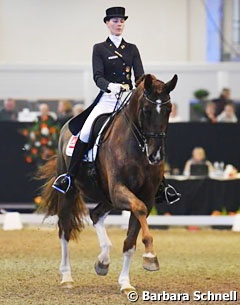 The Deutsche Bank Equestrian Sport Academy has successfully launched its "Mini Mentee" programme and assigned each member of the Academy a mentor role for a youth rider.
Deutsche Bank Equestrian Sport Academy was founded in 2015. In its second year 10 grant recipients were appointed in 2016 for the 2017 show season. The goal of project  is to help high performance riders on their way to sportive and professional success. They get individual training, access to selected shows in Germany and coaching by mentors of the Deutsche Bank for the development of their professional dressage career. The best performing grant recipient obtains a starting place at the 2017 CDIO Aachen in July.
In addition, the Deutsche Bank Equestrian Sport Academy launched the "Mini Mentee" programme in which the grant recipients coach a talented youth rider on his/her path to succes.  The Deutsche Bank Equestrian Sport Academy received four times as many submissions for the Mini Mentee programme as in 2016. 
"We really had a break out of sweat and discussed for a long time," said the Deutsche Bank selection committee about assigning the mentors to the right candidates.
Because of the success of the program, the Academy has relisted four academy alumni to help with the mentoring.  So for 2017 not 10 but 14 training collaborations have been assigned.
The Mentor - Student collaborations are:
Charlott Marie ->Lia Julie Beckmann 
Lisa-Maria Klössinger  -> Nikola Carlsen 
Kathleen Keller  -> Franziska Haase 
Franziska Stieglmaier -> Katharina Häufele 
Sanneke Rothenberger -> Marie Henrich
Juliette Piotrowski -> Annika Jedrkowiak 
Victoria Michalke -> Marie Müller
Ursula Wagner -> Tabea Rekers 
Charlotte Rummenigge -> Martin Schuhmeir
Florine Kienbaum -> Nina zur Lages
Nadine Husenbeth -> Greta Brahms
Hendrik Lochthowe -> Julia Katharina Hamm
Svenja Peper -> Anna Horstmann
Annabel Frenzen -> Stephanie Kemper
All Mini Mentees are invited to attend the CDIO Aachen for one day and smell the atmosphere. 
Photo © Astrid Appels
Related Links
Deutsche Bank Equestrian Sport Academy Announces 2017 Grant Recipients
Ten Dressage Riders Receive Deutsche Bank Equestrian Sport Academy Grant