2017 Bundeschampionate Qualifier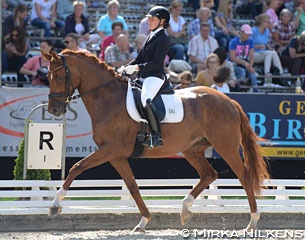 The 5-year old Furst William HC and the 6-year old Brenda AW became the winners of the Bundeschampionate qualification classes held in Hamm-Rhynern on Saturday 27 May 2017. Twenty-four 5-year olds and twelve 6-years old met in Hamm in attempt to score the qualification criterium of 8.0 or more to make it the Bundeschampionate in Warendorf.
The 5-year old L-level dressage horse test was won by Beatrice Buchwald on Anemone Samyn's Oldenburg stallion Furst William HC (by Furst Wilhelm x Lord Sinclair). This brand new combination, which has only been together for three weeks, shone brightly and scored a winning 8.7, far ahead of all the competition. Eva Möller and the Rhinelander gelding Best Friends (by Bordeaux x Don Primero) were second with 8.2. the gelding is bred by Eva and Ulf Möller and owned by the breeders in partnership with their real life "best friends" Holga Finken, Ingo and Susan Pape and Mathieu Beckmann. 
In the 6-year old division, Stefanie Friess moved into the winner's circle aboard her own Hanoverian mare Brenda AW (by Belstaff x Lauries Crusador xx). She scored 8.0 and kept all competitors at bay. Spanish Manuel Dominguez Bernal and Hof Kasselmann's Oldenburg gelding Langley (by L'Espoir x Rimini) finished second with 7.7. 
Photo © Mirka Nilkens
Results - 2017 Bundeschampionate Qualifier - Hamm-Rhynern
5-year olds
1. Fürst William HC (by Fürst Wilhelm x Lord Sinclair) - Buchwald,Beatrice - 8.7
2. Best Friends (by Bordeaux x Don Primero) - Möller,Eva - 8.2
3. Leo Löwenherz  (by Licosto x Rockwell) - Camp,Lydia - 8.1
4. Symphonic  (by Sir Heinrich x Windspiel As) - Wilimzig,Anja - 8.0
4. Filia M (by  Fürstenball x Ferragamo) - Buchwald,Beatrice - 8.0
6. Belaggio (by Belissimo M x Ehrentanz) Müller-Kersten,Andrea - 7.8
7. Bonderman (by Belarus x Alabaster) - Rüscher,Claudia - 7.7
7. Final Selection (by First Selection x Weltmeyer) - Löbbert,Nele -   7.7
9. First Class  (by Fürstenball x Bergamon) - Mende,Maike - 7.6
9. Balia  (by  Belissimo M x Florestan) - Möller,Eva -  7.6
11. Santa Maria  (by Sandro Hit x Ehrenwort) - Wego,Nicole - 7.5
12. Damon's Dark Rose (by  Damon Hill) - Becks,Jil-Marielle - 7.4
12. Finley Rock (by Franziskus x Rock Forever ) - Klippert,Johanna - 7.4
14. DeeJay  (by Destano x Harvard) - Bachmann,Ilka - 7.3
15. Quantanamera  (by Quaterback x Damon Hill) - Schürmann,Charlott-Maria - 7.2
16. Highlight von der Heide (by Millennium x San Amour) - Freund,Jana -   7.1
17. Durbin (by  Don Juan de Hus x Donnerhall) - Bogenschütz,Frank - 7.0
17. Top Gear (by Totilas x Don Frederico) - Freese,Isabel - 7.0
17. Feiner Frosch  (by Fürst Donnerbube x Dramaturg) - Koeppen,Charlotte Corinna -   7.0
17. Dakota  (by Dancier x Warkant) - Tewes,Melanie - 7.0
21. Selfmade  (by San Amour x Lupicor) - Bachmann,Carina -   6.9
22. Sir Rubinus (by Sir Donnerhall x Rubinstein) - Watzek,Julia - 6.3
23. Sir Edmund (by Stoiber SN x Diamond Hit) - Woodman,Karoline - 5.9
Die Callas (by Desperados x Westernhagen) - Ostermeyer,Achim - RET
6-year olds
1. Brenda AW (by Belstaff x Lauries Crusador xx) - Frieß,Stefanie - 8.0
2. Langley  (by  L'Espoir x Rimini) - Dominguez Bernal,Manuel - 7.7
3. Solist R (by Sunday x Florestan) - Schulte-Lorenz,Anika  7.6
4. Budhi (by Bordeaux x Likoto xx) - Wego,Nicole  7.1
5. Lavita As (by Lissaro x Casparino) - Pöppelmann,Marie-Claire 7.0
5. Hopkins  (by  Hofrat x Artistic-Rock) - Camp,Lydia - 7.0
7. Blueberry Hill (by Boston x Florestan) - Freund,Jana  -   6.9
7. She's Nice (by San Amour x Akribor) - Hammann,Christina - 6.9
9. Hot Hit (by Hotline x Diamond Hit) - Wanderes, Frederic  -    6.7
10. Dallas  (by Desperados x Rubinstein) - Niklova,Eva  - 6.3
Slogan  (by Schumacher x Florestan) - lippert,Johanna
Surabaya M (by San Amour x Davignon) - Meyer,Carde

 
Related Link
Eurodressage Coverage of the 2017 Bundeschampionate