2017 Bundeschampionate Qualifier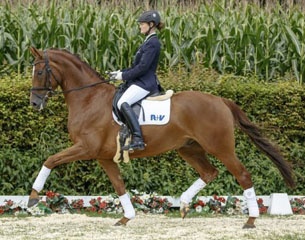 The 5-year old Bon Amour and the 6-year old Sportsfreund were the winners of the two Bundeschampionate qualification classes held in Lübeck, Germany, on Sunday 21 May 2017. Twenty horses in total competed in both classes.
Judged by Britta Bando, Friedrich Lueken and Ulrike Hunecke, the 5-year old L-level dressage horse test had nine starters. Alexandra Bimschas was the sole competitor to achieve the qualification minimum of 8.0 or higher. Aboard Claus Quast's Bavarian stallion Bon Amour (by Benetton Dream x Stedinger) she scored a total of 8.2. The liver chestnut stallion got 9 for trot, 7.5 for walk, 8 for canter, 7.5 for submission and 9 for general impression. Susanne Krohn and the Hanoverian stallion Titolas (by Totilas x Stedinger) were the runners-up with 7.6. The black got 7.5 for walk and trot, 8 for canter and 7.5 for submission and general impression. 
In the 6-year old division judges Britta Bando, Ralph Schmit and Ulrike Zobel assessed the 11 combinations and favoured Anna Christina Adam on the Westfalian stallion Sportsfreund (by Sunday x Ehrentusch). The chesnut stallion totalled 8.4 with 8.5 for trot, 8 for walk and canter, 9 for submission and 8.5 for general impression. Christin Hilger and the Hanoverian gelding Seymour (by Sarkozy x Don Primero) were second with 8.0. The dark bay gelding got 8 for trot, 8.5 for walk and canter, 7.5 for submission and 8.0 for general impression. 
Results - 2017 Bundeschampionate Qualifier - Lübeck
5-year olds
1. Bon Amour (by Benetton Dream x Stedinger) - Bimschas,Alexandra - 8.20 
2. Titolas  (by Totilas x Stedinger ) - Krohn,Susanne - 7.60 
3. Rock Emotion (by  Rock Forever x Don Gregory) - Hilger,Christin - 7.30
3. Fiora  (by Foundation x Sandro Hit) -  Hoffmann-Pinther,Ariane - 7.30 
3. Vapiano  (by Kentucky x Easy Game) - Breidenbach,Vera - 7.30 
6. Dyavie  (by Danone x Welser) - Heuer,Kristina -  7.10
7. Highlight von der Heide  (by Millennium x San Amour) - Freund,Jana - 7.00
8. Crawalll  (by Casall x Cardino) - Hinrichs,Kimberly -  6.80 
9. Imposant  (by All Inclusive x Ovaro) - Neve,Susanne - 6.50
6-year olds
1. Sportsfreund  (by Sunday x Ehrentusch) - Adam,Anna-Catherine - 8.40 
2. Seymour (by Sarkozy x Don Primero) -  Hilger,Christin - 8.00 
3. Elfenkönig  (by Edward x Amerigo Vespucci xx) - Bimschas,Alexandra - 7.80 
4. Royal Dream  (by Royal Classic x Rotspon) -  Waldsperger,Sarah - 7.70 
5. Blueberry Hill  (by Boston x Florestan) -  Freund,Jana - 7.60
6. Amica  (by Ampere x Florestan) - Osborne Diez,Alvaro - 7.50
6. Quintessenz BS (by Quadros xContendro) -  Wehr,Anna-Lisa - 7.50
8. Florentine  (by Floriscount x Alabaster) - Heuer,Kristina -7.10 
9. Fragrance  (by Fahrenheit x Conteur) - Hilger,Christin -  6.90
10. Quibelle KJ (by Quaterback x Londonderry) - Westenhöfer Dr.,Wolfgang -6.30 
Donald T (by Danone x Fidermark) -  Svenson,Nadine  
Related Link
Eurodressage Coverage of the 2017 Bundeschampionate