2017 U.S. Dressage Championships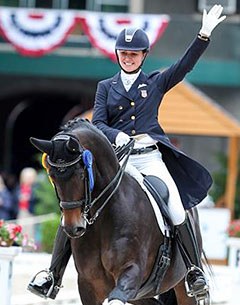 On Saturday 20 May 2017, the 2017 U.S. Dressage Championships moved one day closer to reaching its conclusion with the second round of the small tour championship. Sixteen small tour riders performed their second test before the final day of competition and Adrienne Lyle won the Intermediaire I with Horizon in a class with less than half a point separating the top three finishers.
Lyle (Ketchum, Idaho) had a beautiful test with Horizon to win the Intermediaire I with a score of 70.526%. She and Betsy Juliano's 2007 Oldenburg mare performed a clean test, tidying up some issues from Thursday. Lyle could not say enough about Horizon's wonderful attitude and work ethic.
"Horizon is an over-achiever; that mare is just so fun and on in the show ring. She has a heart that I think is bigger than any horse I have ridden; she is a blast," Lyle said with a smile. "What I loved about Horizon today was her harmony, composure, and softness in the ring; I really appreciate that from her."
Levy had a wonderful test with Floratina to finish in second place with a score of 70.368%. After Kate Sanders's 2008 Hanoverian mare got flat in Thursday's test, she was more uphill and had better collection on Saturday. Levy and Floratina aim to have another great performance in hopes of a top finish in the championship.
"She was really with me today. We are always working for a bit more collection, and she really fought for it with me today, which is fantastic," Levy stated. "We had a few bobbles to work out in the test, but we are working on ironing those out."
Lyle also finished third with Harmony's Duval on a score of 70.132%. While the Duval Partners LLC's 2008 Dutch Warmblood gelding's greenness at the level showed a bit more in Saturday's test, he still had a clean test. Lyle hopes to put in another impressive performance with Harmony's Duval to bring his first national championship appearance to an exciting conclusion.
Lyle and Harmony's Duval lead the overall championship standings, followed by Jane Cleveland and Monique and Lyle and Horizon. The combinations will earn the remaining 15% of their championship score from Sunday's Inter I Freestyle.
- USEF press release, edited by Eurodressage
Photos © Sue Stickle
Related Links

Scores 2017 U.S. Dressage Championships 
Lagoy-Weltz and Pai In Command on Day Two at the 2017 U.S. Dressage Championships
Cleveland, Paris, Perry-Glass Off to a Strong Start at 2017 U.S. Dressage Championships
Wild Card Entries Add Glamour to 2017 U.S. Dressage Championships