2017 German Professional Dressage Rider Championship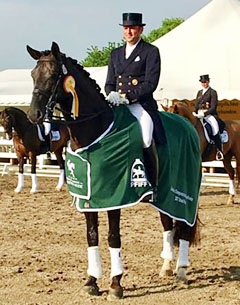 The Krefeld based Heiner Schiergen renewed his title of German Professional Dressage Rider Champion, by winning the 2017 Championships which were held at the Massener Heide equestrian centre in Unna, Germany, on 12 - 14 May 2017. This is Schiergen's third, consecutive title but this year he achieved it on his new ride, Aaron.
Heiner Schiergen won the warm-up round, the Grand Prix as well as the second round, the Grand Prix Special. Aboard the 12-year old Belgian owned KWPN stallion Aaron (by Florencio x Record), on which he took over the ride from Belgian GP team member Jeroen Devroe in February 2017, he scored 73.167% to win the Grand Prix and 74.739% for the Special.
Laura Blackert (née Stigler) landed second place in the Grand Prix and Special with the Walterscheidt family's 11-year old Oldenburg gelding Rasputin W (by Rooney x Donnerhall) on a score of 70.567% and 71.046%.
Marcus Hermes and the Baumgurtel family's 11-year old Oldenburg gelding Cabanas FH (by Carabas x Partout) were third in the Grand Prix with 69.967%, but in the Special Hermes, who was Professional Champion of 2013, got beaten by the Grand Prix' fourth place finisher Tobias Nabben on the 16-year old Oldenburg gelding Peppo (by Pik Noir x Noble Roi xx). Hermes and Cabanas were fifth in the Special with 66.830%, whereas Nabben was got 69.233% in the Grand Prix and he was also third in the Special with 69.281%. Therefore, Nabben moved on to the Horse Change Finals.
Sixteen riders contested the Grand Prix for the 2017 German Professional Dressage Riders Championships, but only the top three moved to the Finals with Horse Change in which each rider rides the Short Grand Prix test on three horses (78.380% on Aaron, 73.056% on Peppo and 74.815% on Rasputin W). Schiergen reigned supreme as he produced the highest score on all three horses (Aaron, Peppo, Rasputin W). He impressively earned the gold medal and his third title in a row and the fourth in his career, as he also won the 2007 Championships. Schiergen, who did his apprenticeship in the 1980s with Jan Bemelmans, now holds four titles. However, Hubertus Schmidt still holds the record with five titles. The 28-year old Tobias Nabben ended up with silver and Laura Blackert was good for bronze. 
Related Links
Schiergen Renews Title at 2016 German Championships for Professional Dressage Riders 
Marcus Hermes Edges Out Timpe in 2014 German Professional Dressage Riders Championships
Thomas Wagner Wins the 2013 German Professional Dressage Riders Championships
Hartwig Burfeind Wins 2009 German Championships for Professional Dressage Riders
Photo Report: 2008 German Championships for Professional Dressage Riders
Hubertus Schmidt wins 2004 German Professional Dressage Riders Championship