Eurodressage F.O.C.U.S.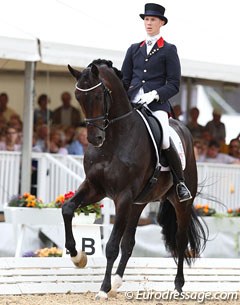 In 2011 Belgian young horse rider Tom Franckx and the Dutch warmblood stallion Bon Bravour made history by becoming Belgium's best scoring pair ever at the World Young Horse Championships. The elastic dark bay KWPN stallion became a favourite amongst breeders and had a short but succesful breeding career. The horse's talent did not go unnoticed and Bon Bravour moved to Anky's stable. However, within months the horse was pulled from breeding and injured himself. So where is he now?
Bon Bravour is a Dutch warmblood licensed stallion Bon Bravour is bred by the late Willy van Beek and is by Painted Black out of Odette (by Chronos). He is currently owned by IPS Horse Group in partnership with Anky van Grunsven. 
Franckx and Bon Bravour (by Painted Black x Chronos) came into the spotlight in 2011 when the pair won the KWPN Stallion Competition Finals in Hertogenbosch. They were instant shooting stars and the highest scoring Belgian duo ever at the 2011 World Young Horse Championships in Verden in August, where they finished fifth in the 5-year old finals. Two weeks later, Bon Bravour became the reserve Pavo Cup champion and six months later he also won the 2012 KWPN Stallion Competition Finals.
After reigning on the national Belgian young horse show circuit Franckx and Bon Bravour qualified again for the 2012 World Young Horse Championships in Verden. However they had to withdraw at the show as the stallion injured himself in the warm up. What was initially described as a minor injury, turned out to be a severe one and the stallion was out for more than a year.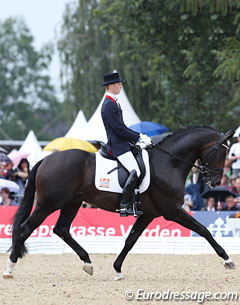 In October 2013 Bon Bravour returned to the public eye in a demo ride at the SBS Stallion Show in Massenhoven, Belgium, under Tom Franckx. However at the end of 2013, owner IPS ended the collaboration with Franckx and Bon Bravour moved to Anky van Grunsven's yard in The Netherlands.
Where is He Now?
Since Bon Bravour's arrival at Anky van Grunsven's yard the stallion has not been competed, even though the Dutch media made a surprise statement in 2016 that Bon Bravour would be Anky's 2016 Rio Olympic hopeful. The Dutch triple Olympic gold medalist denied these claims and in March 2016 she also told Eurodressage that Bon Bravour's is schooling at small tour level but not at Grand Prix. 
Bon Bravour's successes at the World Young Horse Championships launched his breeding career in The Netherlands as well as in Germany and for a few years he was a very popular breeding stallion. However in April 2014, IPS announced that Bon Bravour would no longer be standing at stud. IPS at the time stated that the horse would be focused on his sport career, but the stallion had also re-injured himself and could no longer do the semen collection. 
In October 2015 a short video clip of Bon Bravour under Anky was launched on the internet; the only footage of the pair. In December 2015, IPS announced Bon Bravour's come back to the show ring but they continued to pull the stallion from stud duties.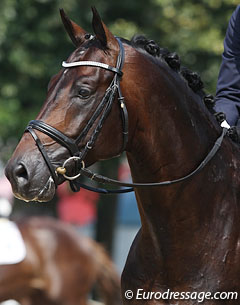 At the time, IPS literally stated: "Bon Bravour also NOT available for Breeding on 2016. The training of Sjef Janssen and Anky van Grunsven with Bon Bravour after a quiet build more intensively and thereby the potential stallion shows to later in the Grand Prix his debut. When BB's debut in Grand Prix will be is not yet determined, but it's in the planning to start him at smaller level soon." 
However, once again nothing happened in 2016. Furthermore, Bon Bravour is not listed on Anky's website as part of her team of horses.
Eurodressage contacted IPS representative Erwin Samuels on multiple occasions but he never responded. Anky's office replied that Samuels should be contacted for any inquiries about the stallion.
Despite a failed break through at FEI level, Bon Bravour certainly has proven potential as a breeding stallion. In The Netherlands he has two licensed sons so far (Galandro, Iconic B) and in Germany he has five licensed sons (Barrique, Blackstage, Bob Marley, Bon Scolari, Black Rock).
Photos © Astrid Appels
Related Links
Partnership Tom Franckx and Bon Bravour Has Come to an End
Bon Bravour Withdrawn from 2012 World Young Horse Championships
Bon Bravour, Amazing Star and Zhivago Win 2011 KWPN Stallion Competition Finals
Chippendale, Bon Bravour, and Apache Win 2011-2012 KWPN Stallion Competition
Hyrano, Bon Bravour and Don Massimo Win 2011 Belgian Young Horse Championships
Charmeur and Borencio Win 2011 Pavo Cup Finals
Bon Bravour on Top in the 5-year old Pavo Cup Finals
Woodlander Farouche Brings Magic to the Ring and Becomes 5-Year Old World Champion