Verden Auction News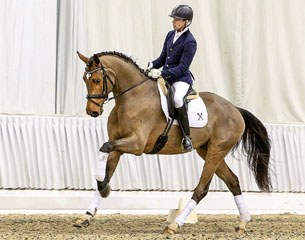 The 4-year old Fritz (by Floriscount x Lauries Crusador xx) became the top selling horse of the 2017 Hanoverian May Auction in Verden, Germany. The bay gelding Fritz sold for 48,000 euro but he was in fact bought back by the owner.
The second most expensive horse was the 4-year old Delawarp (by Don Index x Laurentiano) who sold for 44,000 euro. He was presented at the auction by Karl Heinz Fischer. 
The 4-year old gelding Davinci (by Dancier x Londontime) achieved a knock down price of 42,000 euro.
The best selling show jumper was Quintano (by Quintender x Glenfiddich), who switched owner for 24,000 euro. 
The price highlight of the foals was the colt Flambeau (by For Romance II x Hohenstein) who sold for 20,000 to Bavaria. Diamant (by De Sandro x Dumont) sold for 13,000 euro,  Friesengeist (by For Romance I x Romanov) sold for 12,500 eur, while Venice La Bonita (by Vitalis x Floriscount) switched owners for 11,000 euro.
The Verden May Auction included 37 riding horses and 44 foals. Five horses in total sold for more than 25,000 euro. The foreign interest in the Verden horses was good. A Belgian customer bought five horses. The average price for a horse at this auction was 17,635 euro. 
Photo © Ernst