Malaysian Dressage News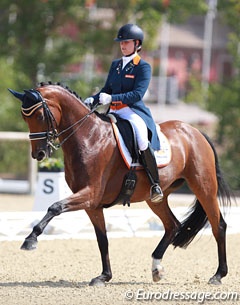 Malaysian small tour rider Qabil Ambal has leased the 2015 European Young Riders Champion's horse Equestricons Walkure as his hopeful for the 2017 South East Asian Games, which be held in Kuala Lumpar, Malaysia, on 22 - 24 August 2017.
The 37-year old Qabil Ambak Dato Mahamad Fathil last competed in international dressage no less than 7 years ago at the 2010 Asian Games in Guangzhou, China. There he won bronze aboard the now deceased Dutch stallion Wup (by Welt Hit II), who he also leased for those Games.
Ambak's passion lies in fact with show jumping. Ambak switched back to show jumping in 2011 and 2012 and then took a long break from international competition. He returned to the CSI show ring in August 2016 and has only been doing jumping events since then. In March 2017 he competed extensively in the Mijas jumping tour on Qalisyan and Qadira.
However, with the 2017 South East Asian Games being in the capital Kuala Lumpur of his home country Malaysia, Ambak has decided to switch back to dressage.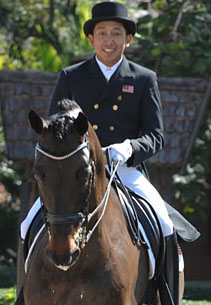 Ambak has leased the 12-year old Oldenburg mare Equestricons Walkure (by Romanov x Donnerschwee) which Danish Agnete Kirk Thinggaard bought as a Grand Prix hopeful after the mare had won the 2015 European Young Riders Championships under Dana van Lierop.
Thinggaard, however, never competed the mare internationally and between October and November 2015, she  competed Walkure in the only two national events they did in Denmark at small tour level.
Ambak is based in Germany and has his horses with the Danish Lars Bak Andersen. However, the past week he switched back to dressage and trained with Thinggaard's assistant Dennis Fisker in preparation of their competition start on 1 May in Denmark. At the Hjorring regional show they got 69.730% and 70.417% in two M-level tests. 
Source: Ridehesten
Related Links
Wup Retired from Competition Sport
Hwang Young Shik Wins Individual Gold at 2010 Asian Games
Scores: 2010 Asian Games
Asian Dressage Riders Set New Standards