Oldenburg Breeding News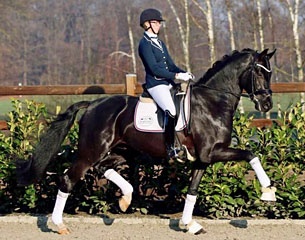 The 4-year old For Final and the 5-year old Dominy became the high scoring horses in the 2017 Stallion Sport Testing which took place in Munster-Handorf on 25 - 27 April 2017.
The April Sport test in Munster had a small entry field with six 4-year olds and just four 5-year olds. The 4-year old Totillah (by Totilas) dropped out of the testing. 
Dressage Performance Centre Lodbergen's Oldenburg stallion For Final (by For Romance x Dimaggio x Lancier) was the top scoring 4-year old with a top overall score of 8.80. The black stallion got 8.8 for trot, 9 for canter, 8.5 for xalk, 8.8 for rideability and 9.0 for general impression.  
The second best scoring 4-year old was Angela Dregger's Saxonian bred Santo Domingo II (by San Amour x Furst Heinrich x Royal Dance) with an 8.08 overall score. He got 7.6 for trot, 8.4 for canter, 8.0 for walk, and 8.2 for rideability and general impression. Flashback (by Franziskus) got 7.95 but Equidiamonds Damiani (by Damon Hill) failed the testing with a 6.96 total.
In the 5-year old group, Lodbergen's Bavarian bred Dominy (by Diamond Hit x Pour Plaisir x Piaster) received the highest mark. He got 8.3 for trot, 8.8 for canter, 8.5 for walk, rideability and general impression to finish on a total of 8.52. 
The other 5-year olds were Bon Amour Cuivre (by Benetton Dream) with 7.90, Symphonic (by Sir Heinrich) with 7.61 and Unicato (by All Inclusive) with 7.51. 
Related Links
Devonport and Don Martillo, High Scorers at 2017 Stallion Sport Test in Verden
Destacado, High Scorer in Second 2017 Stallion Sport Test in Munster
Bonds, High Scorer at 2017 German Stallion Sport Testing in Munster