2017 CDN Massenhoven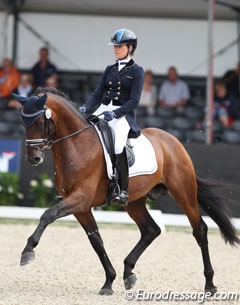 The 5-year old First Step Valentin, the 6-year old Aragon and the 7-year old Barroso became the winners of the young horse selection trial held at the 2017 CDN Massenhoven on 15 April 2017. This national show was the second qualifier for Belgian team selection for the 2017 World Young Horse Championships in Ermelo, The Netherlands.
Belgium is allowed to send two horses per age division. For 2017 the national federation has scheduled seven Belgian qualifiers for Ermelo. Each horse's four highest scores at the qualifiers (2 scores in the preliminary test, 2 scores in the finals test) will be converted into points based on which placed they ranked at the show. The four horses with the highest points per age division will be nominated for Ermelo (two definite, two reserve).
At the 2017 CDN Massenhoven, Larissa Pauluis and the Westfalian licensed stallion First Step Valentin (by Vitalis x Fidermark) reigned supreme in the 5-year old division with a 76.479 score. Katrien Verreet followed in a short distance on the Belgian warmblood mare Miss Furstenball (by Furstenball x Ritmeister) with 74.063%, while former Grand Prix team rider Philip Jorissen landed third place on the Belgian warmblood mare Miss Dior Van Den Bruel (by Special Agent Amour x Florestan) with 73.521 points. 
After placing third at the first qualifier, Loranne Livens and the Rhinelander stallion Aragon (by Aaron x Lord Loxley) now topped the board in the 6-year old division with 72.958 points. Gert Helsen and Gerlinde Lauwers' Belgian warmblood mare Laura Ashley (by Bon Bravour x Sandro Hit) were second with 70.500 points, while Brecht D'Hoore and the AES Licensed stallion Wolfshoeve's Go on Top (by Danone I x Welt Hit II) were third with 69.625%.
A big group of eighteen 7-year olds gathered in Massenhoven and it was the routinier pair Larissa Pauluis on the Dutch warmblood stallion Barroso (by Bordeaux x Saros xx) who took home the trophy with 76.609 points. Belgian Olympian Jorinde Verwimp brought along her new ride, the Belgian warmblood Kastar Hof Ter Zeedycke (by Game Boy x Bonheur), to become the runner-up in the 7-year old class with 74.672%. Grand Prix rider Francoise Hologne Joux rode Mrs. Niclaus' French bred Lusitano cross Alquarzar de Massa (by San Amour x Landim) to a third place with 74.316%.
Results - 2017 CDN Massenhoven
5-year olds 
1. Pauluis Larissa - First Step Valentin - 76,479
2. Verreet Katrien - Miss Furstenball - 74,063
3. Jorissen Philip - Miss Dior Van Den Bruel - 73,521
4. Van Laer Nick - Juwel Krack vh Klaverhof - 73,260
5. Appel Christiana - Hero - 72,906
6. Hosewol Marinus - Gotye -  72,010
7. Buelens Kayleigh - Fifty Ways to Victory - 71,729
8. Van Puijenbroek Rob - Heros Begijnhoeve -  71,552
9. Samyn Anemone - Fürst William HC -  71,333
10. Meiresonne Delphine - Hunter K - 70,906
11. Helsen Gert - Prima Donna- 70,635
12. Vandeborne Lore - Millenica  - 69,813
13. Dries Mieke - Golddream Vd Kempenhoeve - 69,667
14. Van Den Bogaert - Natasja Hove's Zako - 69,354
15. Verreet Katrien - Thorgal Biolley - 69,094
16. Klinkhamers Robine - Mamadou A.H. - 67,354
17. Borghys Maarten - Mazarine Ter Dolen -  67,323
18. Klinkhamers Robine - Stravinsky A.H. - 66,854
19. Oostvogels Veerle - Just A Gigolo - 66,833
20. Umans Henri - Duke Royal - 62,031
Hosewol Marinus Gajninto - DNS
6-year olds
1. Livens Loranne - Aragon - 72,958
2. Helsen Gert - Laura Ashley - 70,500
3. D'Hoore Brecht - Wolfshoeve's Go on Top - 69,625
4. De Winne Flore - Basali - 69,375
5. Cool Isabel - Glorious - 69,125
6. Cool Isabel - Gilmora - 68,667
7. Bervoets Denis L- ars Van Het Kristoffelhof - 68,417
8. Visser Tommie - Genesis Begijnhoeve - 68,375
9. Van Laer Nick - Quinto - 68,167
10. Meisch Linda - Goldennettie - 67,917
11. D'Hoore Wouter - Guess Van De Moerhoek - 67,417
12. Vets Charlotte - Fahrenheit Biolley -  65,750
13. Vandecappelle - Ine Generaal -  65,000
14. Bervoets Denis - Hannah van het Goorhof -  64,583
7-year olds
1. Pauluis Larissa - Barroso - 76,609
2. Verwimp Jorinde - Kastar Hof Ter Zeedycke -  74,672
3. Hologne - Joux Francoise - Alquazar De Massa - 74,316
4. D'Hoore Brecht - Favian WH - 73,944
5. Franckx Tom - showdancer - 73,336
6. Dossin Julie - First lady - 71,005
7. Tonnaer Jacqueline - fairytale - 70,316
8. Fassaert Claudia - Amadeus De Massa  -  69,614
9. Verreet Katrien - Gallartica Biolley -  68,720
10. De Winne Flore - Lisandro - 67,913
11. De Vlieger Andre - Figo -  67,371
12. Verloy An - Kenzi -  66,675
13. Laevens Kevin - Kozinsky Vd Dries - 66,592
14. Craut Sandy - Free Town - 65,356
15. Samyn Anemone - Forever Love - 64,836
16. Bervoets Denis - Kartouche - 64,191
17. Vandecappelle Ine - Katusha Van 't Wijnhof - 63,108 
18. Coenraerds Ronny - Kadans Van 't Koolhof -59,364
Related Links
Eurodressage Coverage of the 2017 World Young Horse Championships
Golddream, Goldennettie, Barroso Win First Qualifier for 2017 Belgian WCYH Team Selection