German Breeding News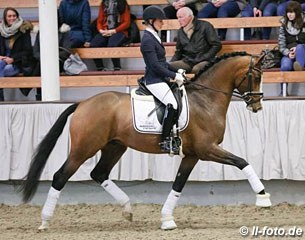 The Westfalian bred 3-year old Zoom (by Zack x Don Schufro) became the high scorer at 14-Day Stallion Suitability Test held in Neustadt/Dosse, Germany, on 6 - 19 April 2017.
To maintain a licensed status, stallions have to score at least 7.5 overall, or 8.0 or higher in either the dressage or the jumping phase.
The bright bay Zoom, bred by Dorthe Jeppesen and owned by the Warendorf state stud, scored an overall mark of 8.53 points, with a strong 8.88 for dressage and 8.03 for show jumping. The stallion got 9.25 and 9.50 for character, 9.0 for willingness to work, 8.5 for walk and trot and 9.5 for canter. His rideability earned him 9, his jumping in freedom 7.5 and his test rider gave him a 9.0.
One more stallion scored an overall of 8.0 and that was the jumper bred Argentino Vivo (by Armitage) who finished with 8.0 after receiving 7.25 for dressage and 8.55 for show jumping. He got 7 for walk and trot and 7.5 for canter. 
The third highest scorer was Dohnanyi (by De Niro) with 7.90. He got 8.16 for dressage and 7.40 for jumping. The dressage stallion Durello (by Destano) achieved a total dressage score of 8.45 but with 6.80 for jumping, his overall dropped to 7.85 points.
Two stallions did not make the cut and were lower than 7.50: Allende (by Ampere - 7.13) and Speedway (by Schwarzgold - 7.03). Zonik One (by Zonik) barely made the cut with his 7.40 overall, but he survived with the 8.04 dressage score by the skin of his teeth.
Related Links 
Devonport and Don Martillo, High Scorers at 2017 Stallion Sport Test in Verden
Destacado, High Scorer in Second 2017 Stallion Sport Test in Munster
Bonds, High Scorer at 2017 German Stallion Sport Testing in Munster 
German Stallion Performance Testing Undergoes Further Changes, Suitability Tests in 2017