British Dressage News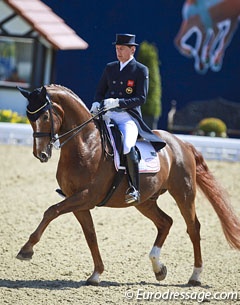 British Olympic and European team gold medal winner Emile Faurie has signed as training supervisor and sales manager at Ullrich Kasselmann's dressage sales and training facility Hof Kasselmann in Hagen am Teutoburger, Germany. At the same time Faurie steps down as Finnish team trainer.
Emile Faurie has represented Great Britain at two Olympic Games, three World Equestrian Games and six European Championships on Virtu, Legrini, Rascher Hopes, Insterburg and Elmegaardens Marquis. He has garnered a wealth of knowledge and experience as a competitor and trainer.
"I'm very excited about this new opportunity," Faurie explained. "I will be dividing my time between the U.K. and Germany and will be riding a number of horses at Hof Kasselmann as well as supervise the training of the youngsters and FEI level horses. I will also be assisting François Kasselmann, Hartmut Lammers and Stephan Plüm with the sales of the horses."
Based at Heath Farm in Oxfordshire, Great Britain, Emile teaches a number of British talents from Young Riders to international Grand Prix level. His student and assistant trainer Tom Goode has recently made a smashing debut at national Grand Prix level aboard the KWPN stallion Dior (by Gribaldi x Goodtimes). Emile is currently competing Hof Kasselmann's Weekend Fun (by Welt Hit II x Rubinstein) at international Grand Prix level.
With the acceptance of his new job at Hof Kasselmann, Faurie resigned from his position as Finnish team trainer. "I've had a good conversation with the federation and we decided to continue working together. I will no longer be the team trainer, but will be a Top Dressage Trainer for Finland, working with several of the international Grand Prix riders," Faurie stated.
Faurie is not unfamiliar with Hof Kasselmann and Performance Sales International, which hosts the most prestigious auction of young sport horses in the world. At the beginning of his professional dressage career in the 1980S Emile worked for PSI helping to back and prepare youngsters for auction.
"It was phenomenal. I was riding lots of different horses, received brilliant training and gained knowledge of how to recognize a good young horse," he said. "I'm excited about the future working collaborating with the Kasselmann family, who I consider long-time friends. They have an outstanding collection of horses from young horse level to Grand Prix and a professional team at Hof Kasselmann. It will be a pleasure to train and work with them."
Hof Kasselmann CEO Francois Kasselmann is looking forward to this great cooperation: "We have been working together for a long time now and I am glad that we can finally successfully expand this partnership. Emile is a very professional but at the same time fun guy who fits perfectly into the philosophy of Hof Kasselmann and PSI. His international background, his experience on forming youngsters up to Grand Prix level and at the same time bringing the riders in shape can only have a good effect for us."
Related Links
Emile Faurie to Host Master Class at 2017 British Indoor Championships
Celebratory Weekend for Emile Faurie at 2016 London Olympia Horse Show
Emile Faurie Foundation Announced as Official Charity for 2016 CDI-W London Olympia Horse Show
Emile Faurie Appointed Finnish Grand Prix Team Trainer