2017 World Championships for Young Dressage Horses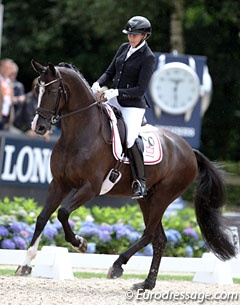 The Danish equestrian federation has created a new format for team selection for the 2017 World Championships for Young Dressage Horses to be held in Ermelo, The Netherlands, on 3 - 6 August 2017. The federation has appointed judge Gunilla Nyman Faurby, rider Dennis Fisker, mentor Birthe Lyder and team trainer Natalie zu Sayn-Wittgenstein as selectors.
A long list of combinations will be created after observation and selection trial in Vilhelmsborg on 26 May 2017. The long-listed horses will contest a final team selection competition, held during the 2017 Danish Dressage Championships in Broholm on 8 - 9 July 2017, at which both the preliminary and finals test will be ridden.
The long list that will be in the running for team selection will include
The horses who represented Denmark at the 2016 WCYH in the 5 and 6-year old division
The two best horses for the Danish Trakehner Championships (4,5,6 year olds)
The six best horses for the 2016 Danish Young Horse Championships in Odense
The six best horses from the 2017 Danish Warmblood Young Horse Championship in Herning
Horses picked at the first observation trial in Vilhelmsborg on 26 May
The selectors will announce the Danish team for Ermelo at the Danish Championships after the Finals test has been ridden on 9 July 2017.
Photo © Astrid Appels
Related Link
Eurodressage Coverage of the 2017 World Young Horse Championships