2017 World Cup Finals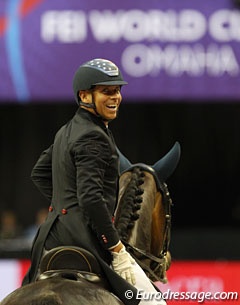 To the surprise of many, two-time Olympic team bronze medalist Steffen Peters entered the arena on Thursday 29 March 2017 to begin the 2017 World Cup Dressage Final wearing a helmet. A traditionalist at heart, Peters made it his 2017 New Year's resolution to drop the top hat and sport a helmet in FEI competitions.
"I hung on because of a superstition. Over the years, I became less superstitious. At first it was my tailcoat that I had for 26 years. The top hat was the final superstitious item that I hung on to. I had a couple good tests with the helmet and decided to switch," said Peters, who was also encouraged to wear a helmet by U.S. teammates Kasey Perry-Glass and Laura Graves, among others.
According to a study published in the journal Neurological Focus in 2016, data from the National Trauma Data Bank between 2003 and 2012 revealed that 45% of sports-related traumatic brain injuries among adults admitted to trauma centers were related to equestrian falls. This number is much larger than any other sport, including football and other contact sports. However, research has shown that wearing helmets reduces the risk of severe traumatic brain injury by 50%. Unfortunately, only 25% of equestrians wear helmets regularly.
When Peters looked at team pictures, he realized he was the only U.S. team member not wearing a helmet. As a result, he decided he needed to make the change. Originally, Peters adopted the top hat, in part because his role models wore them. However, Great Britain's Carl Hester, whom Peters admires and who elects to wear a helmet often, also influenced his decision. However, Peters' fans and those who questioned his choice of headgear really instigated the change. Now, Peters can influence the next generation of dressage riders.
"I received so many messages on Facebook, some firm, some kindly convincing me to wear a helmet because I am setting an example for children. Some mothers aggressively told me that I have to wear a helmet. I listened. At the end of the day, if so many people speak out, and when you are an athlete in this position, I have to set guidelines and suggestions, and I listened," said Peters.
"Safety comes first. There are so many accidents where the horse is walking. It's not always the horse that is acting up, bucking, or a rider falling off. Sometimes it's little situations that we can't control," added Peters, who admits he is still getting used to wearing a helmet. "It feels a little strange, especially when I salute because I'm used to taking the hat off," he laughs.
By Diana Rossmeier for the USEF - Photo © Astrid Appels
Related Links
Eurodressage Coverage of the 2017 World Cup Finals  
2016 Riders4Helmets International Helmet Awareness Day Draws Attention to Concussion
Cesar Parra and Advanced Helmet Line KEP Italia Form a Winning Partnership
Silvia Rizzo, Ambassador for Helmet Wearing on 2015 International Helmet Awareness Day