American Dressage News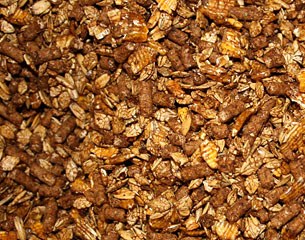 On 6 April 2017, the FEI announced that American dressage horses Horizon and Don Principe both tested positive to the banned substance Ractopamine at the 2017 CDI Wellington on 8 - 12 February. The riders of both horses are now investigating feed contamination.
American feed companies add the muscle growth drug Ractopamine into feed for swines and cattle, though major horse feed companies state that their equine feed does not come in contact with drugs.  For instance, Purina, the largest feeding company in North America, posts on its Canadian website that its feed is "formulated with proven quality ingredients and manufactured exclusively by Cargill in a specialized drug‑free equine facility." However, Purina U.S.A's website does not have such a visible disclaimer. 
In Great Britain, for instance, clean feed comes from a registered feed business operator (FBO), whose registration number must be quoted on the label. This ensures that the company will have the required levels of hygiene and traceability, and have a HACCP (hazard analysis and critical control points) plan, which assesses the production process for feed safety issues. Feed, supplements and applications are under much scrutiny and monitored very closely by the Veterinary Medicines Directorate (VMD), Food Standards Agency (FSA), Trading Standards and in some instances the Advertising Standards Authority (ASA), but it is not illegal to place ingredients not suitable for competition use in products.
Riders Adrienne Lyle (Horizon) and Kaitlin Blythe (Don Principe) are now investigating whether their horses tested postive due to feed contamination. They will have to prove in front of the FEI Tribunal that their horses were not administered the drug, but unvoluntarily contaminated either through feed or the environment.
The riders so far have not disclosed which brand of feed/supplementation they have been using for their horses. Purina USA pre-emptively contacted Eurodressage to state that, "Purina Animal Nutrition, LLC is NOT the manufacturer of this feed."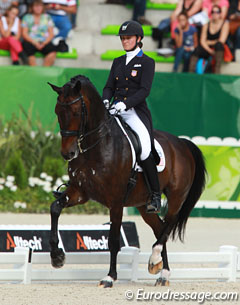 2012 U.S. Team Olympian Adrienne Lyle issued the following statement: "I am completely devastated by the news of Horizon testing positive for a banned substance. Anyone who knows me or Betsy Juliano knows we would ABSOLUTELY NEVER let a banned substance get anywhere near our horses! It is a complete shock and makes no sense to me, and I am still reeling from this news. I completely support the FEI's clean sport policy and I am so careful about everything I feed and about every little thing that comes in contact with my horses! We are doing everything in our power to find out how this could have possibly happened."
Numerous riders in the past, whose horses have tested positive to medication or banned substances, have blamed the positive doping test on feed or environment contamination: Dressage rider Estelle Wettstein, Sara Henriette Kallstrom Bergtrom, and Isabell Werth, as well as renowned Olympic show jumping champion Steve Guerdat cited feed or environment contamination for their horse's positive tests.
The FEI publishes an 'Equine Prohibited Substances List' (EPSL), which enables Persons Responsible (PRs) to ensure that they are not treating or feeding horses with substances that are prohibited for use during competition and substances that are not permitted for use in the horse at any time.
A list of the FEI equine anti-doping cases can be viewed here. The FEI list of suspended athletes for positive tests and yellow cards is here.
Related Links
Neuhauser, 2015 Swiss U25 Champion, Wettstein Stripped Of Title After Positive Doping Test 
Isabell Werth Suspended from Competitions for Six Months
RIN Overrules Bergstrom Kallstrom's Suspension for Positive Medication Test
Decision in the Positive Medication Case involving Mythilus