2017 CDI San Juan Capistrano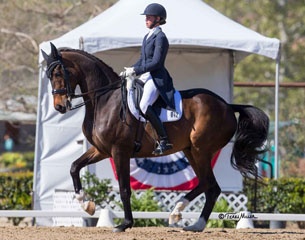 Since 2012, Legolas and Steffen Peters traveled the world together and have a multitude of titles to their credit, including a team bronze from last summer's Olympic Games in Rio de Janeiro. But in January, Four Winds Farm's Westfalian gelding (by Laomedon x Florestan II) entered a new chapter in his career as Peters handed over the reins to 27-year-old former working student Dawn White-O'Connor. The promising pair wasted no time getting top results as they claimed the Grand Prix and Special ath the 2017 CDI San Juan Capistrano on 24 - 26 March 2017.
White-O'Connor's weekend got off on the right foot as she piloted Legolas to a hard-fought win over a field of 12 competitors in Friday's Grand Prix with 73.780%. "I think it was the cleanest test with the best feeling I've had with him so far," White-O'Connor noted. "There's always plenty of room for improvement, but I was so happy." The pair then returned to the main ring at the Rancho Mission Viejo Riding Park with another solid performance in the Grand Prix Special, topping the leaderboard with 73.706% in their inaugural outing in this notoriously-challenging test. "The hardest part of doing the Special with him is having the changes start from the opposite lead, so having the off day in between to be able to school the two's off the right and the one's off the left really worked well with him," she added.
White-O'Connor isn't so naïve as to think that taking over the ride on an accomplished international Grand Prix mount like Legolas won't come with a certain degree of expectation – she just doesn't let the pressure affect her. "Of course there's an expectation because of how the horse has scored in the past, but Steffen [Peters] and Akiko [Yamazaki] are so supportive and they don't put any pressure on me, so that makes it a lot easier to have that encouragement," she explained. "It's always a challenge to get used to a new horse, but luckily Steffen knows him so well that his assistance is invaluable. Legolas is a sensitive horse, but since we're still in the same program Steffen has always had with him, that consistency helps a lot too. So now we'll go to Del Mar at the end of April and then we'll see what happens from there.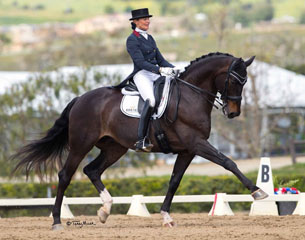 Despite the fact that White-O'Connor and Legolas have only been together a short time, their obvious chemistry also impressed the judges. "She rode that horse masterfully," said judge Sarah Geikie (4* USA). "Her position and manner on the horse are impeccable, and you can see Steffen's influence coming through. It looks like Legolas really likes her and they seem to have a great harmony together, and it was very exciting to see what a great partnership they're forging with each other."
Charlotte Jorst may have been the bridesmaid behind White-O'Connor in the Grand Prix and Special as she had to settle for second place with Nintendo (by Negro x Monaco) in both tests with 71.600% and 73.392%, respectively. But in her favorite division, the Grand Prix Freestyle, Jorst came out on top with her Danish gelding Akeem Foldager (by Akinos x Loran) on the strength of a score of 74.750% for her "Time To Say Goodbye" freestyle which she utilized for last year's World Cup Final performance in Gothenburg, Sweden with Nintendo, but in fact was originally choreographed for Akeem Foldager. "I'm so excited he finally got to win with it," Jorst exclaimed. "He was on fire today! It was such a great ride and Akeem keeps on getting better and better. Instead of getting tense like he used to, he's gaining so much confidence and really loving going in the ring. It makes it so much fun for both of us. It's amazing how far we've come in such a short time."
Just a matter of days before he canters down centerline at the 2017 World Cup Dressage Final in Omaha, Neb. with new star Rosamunde, Steffen Peters enjoyed a winning weekend in the small tour at San Juan Capistrano with Four Winds Farm's 9-year-old Oldenburg Bailarino (by Breitling W x De Niro). The flashy chestnut gelding impressed the judges in the Prix St. Georges test for a winning score of 73.526% over Nicholia Clarke and Quincy (by Quaterback x Brentano II) with 71.500%, and then repeated their victorious performance in Saturday's Intermediaire I class to win with 73.500%.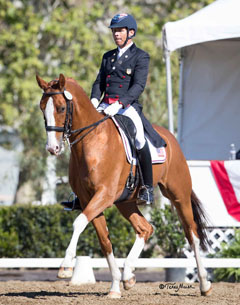 "This was a highly competitive division with the quality of the horses and riders being very impressive," said Geikie. "But Steffen was the clear winner. He is such a talented rider, and can get the most out of any horse that it is capable of giving. Highlights included a beautiful extended walk, the tempis and pirouettes, and with every horse Steffen rides he seems to instill a sense of sereneness even if the horse doesn't naturally possess it. This is a talented, very athletic horse with lovely gaits and he was ridden beautifully. It's definitely a horse for the future." Meanwhile, Kim Yacobucci and her Oldenburg mare Dona Rosa (by Don Graphit x Layout) rebounded from a second-place finish in the Intermediaire I class (69.474%) to put in a winning effort in Sunday's Intermediaire I Freestyle, earning the unanimous favor of the judges with a top score of 73.900%
Honoring requests by competitors, the FEI Amateur division was offered for the first time as part of its 2017 CDI series. Five talented combinations vied for the judges' favor. Coming off a pair of CDI-AM wins at the CDI Burbank two weeks ago, Tiffany Mahoney once again topped the scoreboard in the CDI Prix St. Georges for Amateurs with 65.605% aboard her Westfalian gelding Rey del Mundo (by Rock Forever x Ferragamo). But the following day, Elma Garcia and Wenesa (by Westernhagen x Davignon) turned the tables in the Intermediaire I for Amateurs to earn the blue ribbon with a score of 65.053%.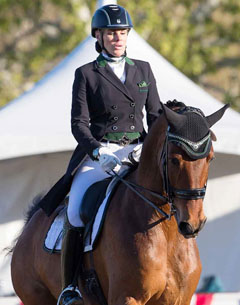 Meanwhile, Rachel Robinson and Westfalian mare Indira (by Insterburg x Danny De Vito) claimed an individual silver medal at last year's North American Young Riders Championship in Colorado, and they appear to be poised for a chance to earn more hardware as they swept theYoung Rider Division  with winning scores of 64.842%, 69.158% and 70.375% in the Team, Individual, and Freestyle tests respectively. Also sweeping her division was Junior competitor Aleyna Dunn, who continued to improve all weekend with Cecile von Martels' Dutch Warmblood mare Bivera (by Florett As x  Tower of Magic) to earn top honors in the Junior Team Test (66.703%), Individual Test (67.263%), and Freestyle (71.200%). 
"Once again it was a great, well-run show in a lovely venue with a large turnout, just like we've come to expect to see at these California shows," said Geikie. "We had so many good horses and riders there, and saw quite a few up-and-coming pairs that demonstrated the depth of talent here on the West Coast." 
Text by Jennifer Keeler, edited by Eurodressage - Photos © Terri Miller
Related Links
Scores: 2017 CDI San Juan Capistrano
Dawn White-O' Connor Takes Over Ride on Legolas
Peters and Rosamunde Win 2017 Las Vegas World Cup Qualifier, White and Legolas Make a Start 
Akeem Foldager Returns to the Show Ring
Charlotte Jorst Acquires Akeem Foldager