Dutch Dressage News
Dana van Lierop has been hired to manage the newly acquired dressage facility of Hungarian investor Arie Yom Tov in Uden, The Netherlands. Van Lierop left her job as assistant rider at Stable Witte to develop her own business in Yom Tov's stable.
Arie Yom Tov is one of Hungary's biggest property developers and investors with Israeli roots.
Van Lierop has already received the ride on the 4-year old Stiffelio (by San Amour x L'Espoir) which the entrepreneur acquired in Belgium at the same place where he bought his daughter Jazmin's junior rider's horse Sierappel (by Clavecimbel). 
The 22-year old Van Lierop was the 2011 European Pony Champion, 2012 European Junior Riders Champion and 2015 European Young Riders' Champion.
She began working as a stable jockey at Nico Witte's yard at the end of 2015 and returned to the big show ring at the 2016 World Young Horse Championships on Gunner KS. She also competed the young stallion Daily Diamond on the Dutch young horse circuit. With her departure to Uden, the ride on Daily Diamond has been given to Kirsten Brouwer, which Horses.nl reported. 
Dana van Lierop came in touch with Hungarian horse owner Arie Yom Tov through her mom Nicolette van Leeuwen, who regularly travels to Hungary for clinics. The Hungarian entrepreneur decided to set up a yard for his daughter Jazmin in The Netherlands in order to tap into a broader, high quality horse base as a foundation to build upon.
"Mr. Yom Tov decided for Holland because we, like in Belgium and Germany, are a horse country where there are plenty of opportunities to expand," Van Lierop told Eurodressage. "Because Yom Tov hopes to develop a successful sport stable, he did not choose Hungary. In Holland we have more quality, more expertise and more possibilities for competition."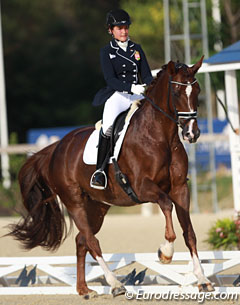 The new stable will become a sales and training facility for competitive sport horses. Dana will train and compete the horses up to the highest level. 
"This also counts for Jazmin, for whom he has good horses," Dana added. "I will prepare them for her together with my mom and Jazmin will come over once in a while. I will also have my own competition horses with which I will now have the chance to develop myself into a good rider."
Van Lierop disclosed that the barn mainly has young horses which will be prepared for the Pavo Cup next summer. Jazmin also aims for the World Young Horse Championships in Ermelo.
The past two years, the 15-year old Jazmin has been competing internationally at Pony, Children and junior riders' level. In 2017 she also moved up to young riders' level. In 2016 she represented Hungary at the European Pony Championships in Vilhelmsborg on Jazzo. Her string of horses include Duna Luna, Sierappel, Jazzo, Willem Alexander, Oldi, and Intendro van de Nachtegaele. At a national level in Hungary the pony rider has shown up to Grand Prix level! 
Photos © Astrid Appels
Related Links
Eurodressage Photo Database: Dana van Lierop - Jazmin Yom Tov
Judges Wust and Lang Conduct Clinics in Hungary to Improve Country's High Performance Dressage
Jamiroquai, Kitti, Fly With Me Win 2016 Hungarian Young Horse Championships
Dana van Lierop Gets Individual Test Gold at 2015 European Young Riders Championships
Golden Hattrick for Dana van Lierop at 2012 European Junior Riders Championships
Dana van Lierop and Day of Diva Have Their Day in Kur to Music Finals