2017 CDI Wellington
Saturday's CDI competition during week ten at the 2017 Global Dressage Festival in Wellington, FL, was less action packed at top level with two rather small Grand Prix Special classes in which two riders rode the 4* division and nine the 3* class. P.J. Rizvi won the Grand Prix Special 3* with 70.588%, while Katie Poag's 67.941% sufficed for the Grand Prix Special 4* victory.
P.J. Rizvi (USA) and Breaking Dawn, a 2001 KWPN gelding (by Akribori x L. Ronald) owned by Rizvi, climbed to the top of the leader board in the Grand Prix Special CDI 3* earning a score of 70.588%. This was the pair's first time competing together in the Grand Prix Special.
"It was one of those 'let's just give it a whirl' moments," said Rizvi, "I've just been doing the freestyle, but it was time to do the Special, and I'm so proud of him. He felt forward, and with the length of the test it felt like even at the end, I still had a lot of horse under me. I'm just so amazed; he's like 16 going on six and is such a joy to ride."
In regard to her future with "Edward", Rizvi commented, "I think we are going to try to go to Europe this summer. He is super healthy, and I think that now is the time that we want to move forward and try to show this summer instead of waiting for a whole year until next season."
Second place was awarded to Anna Marek (USA) and Dee Clair, a 2008 KWPN mare (by Sir Sinclair x Rolls Royce) owned by Diane Morrison, the pair earned a 67.216%. Third place went to Christopher Hickey (USA) and Ronaldo, a 2006 Danish Warmblood gelding (by Romanov x Don Schufro) owned by Cecelia Stewart, with 66.333%.
Katie Poag and her own Zonnekoning, a 2004 Dutch Warmblood stallion (by Florett As) captured a victory in the Grand Prix Special CDI 4*. Their score was 67.941%.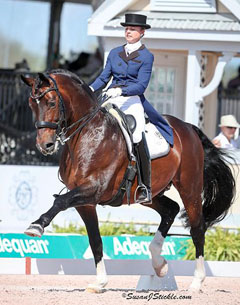 "I thought the ride went pretty well," said Poag. "I thought the trot work was the strongest part of it, as it usually is. The canter is still a bit challenging, (and) our flying changes are coming along. I was pleased with the overall feeling of the ride. Our goal is to keep climbing and moving up, and I think he has a tremendous amount of talent and can continue to do that. It's just a matter of coming to these competitions and getting more experience. I'm very excited about the future and how much more I think he can bring to the table."
Second place went to Arlene Page (USA) and Dr. House, a 2005 Oldenburg gelding (by Don Schufro x Krack C) owned by Page, scoring 67.451%.
Earlier in the day, Jennifer Baumert (USA) and Handsome, a 2005 Hanoverian gelding (by Hochadel x Weltmeyer) owned by Elizabeth Juliano, earned a score of 74.875% and a victory in the Intermediaire I Freestyle CDI 3*. Second place went to Catherine Malone (USA) and Dilona, a 2008 KWPN mare (by Lord Leatherdale x Kennedy) owned by Iron Spring Farm, with 73.458%. Third place was awarded to Anna Marek and Einstein JP, a 2009 KWPN gelding owned by Lorna Donahue, scoring 71.750%.
Text by Carly Weilminster, edited by Eurodressage - Photos © Sue Stickle
Related Links

Scores 2017 CDI Wellington
Lyle, Petersen, Francis, Matute Guimon, Bateson Win at 2017 CDI Wellington