KWPN Breeding News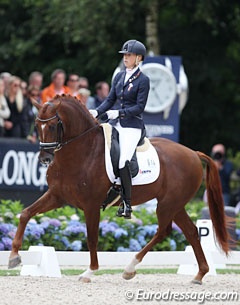 The Dutch Equestrian Federation and KWPN society announced this year's selection process for combinations who wish to obtain an entry for the 2017 World Championships for young dressage horses to be held in Ermelo, The Netherlands, on 3 - 6 August 2017.
Before 2016 Dutch team selection depended on training days, but as of 2016 a new selection process has been applied based on actual competition qualifiers followed by a semi-finals and finals. The KNHS will be sticking to this format.
Four qualifier competitions have been appointed: Almelo (23 April), Kootwijk (12 May), Nieuw en St. Joosland (21 May) and Schaijk (2 June). 
Qualified for the semi finals in Etten-Leur on 16 - 17 June 2017 are the 15 best horses in the 2016 Pavo Cup finals per age division, as well as the 15 horses per age category from the qualifiers. The preliminary test will be ridden at the semi-finals. 
The Finals will be held during the 2017 Dutch Championships in Ermelo on 13 and 15 July 2017 where the preliminary and the finals test will be ridden. On Saturday 15 July, the KNHS will announce the Dutch representatives for the 5, 6 and 7-year old division.
Photo © Astrid Appels
Related Links
Dutch Horses Selected for the 2016 World Young Horse Championships 
Horses for 2016 Dutch WCYH Semi Final Selection Trial Known
Guardian S, Cum Laude, Esperance Win Second 2016 Dutch WCYH Selection Trial in Kootwijk
Gatino, First Apple, Elysias Win First Dutch Qualifier for 2016 World Young Horse Championships