2017 CDI Wellington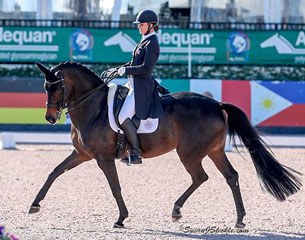 The show goes on in Wellington, Florida, with yet another week of CDI competition from 15 - 19 March 2017. The FEI level winners of the first three days of showing were Adrienne Lyle, Lars Petersen, Shelly Francis, Juan Matute Guimon, and Katherine Bateson in the small and big tour classes.  Week ten commenced on Wednesday 15 March in Wellington, FL, with the FEI Prix St. Georges.
Lyle and Horizon Take Another PSG
Adrienne Lyle and Horizon, a 2007 Hanoverian mare (by Hotline x Don Schufro) owned by Elizabeth Juliano, bested a talented class of 31 riders today in the Prix St. Georges. The duo earned themselves a top spot on the leaderboard with a solid start to the week and a score of 71.447%.
"I couldn't be happier with her," commented Lyle, "at the end of a long season, to be able to have her just as fresh and confident and happy. That's the main goal, to have them loving it just as much the last time they go down centerline, as they did the first time. She is for sure not burnt out. She's always ready to go."
"Being here means so much," said Juliano. "I've had that horse since she was three, and I couldn't be happier with how she's going. Step-by-step, this pair has been very careful and classical and kind, and she shows it. She loves what she does, (and) she's a huge busy body. She loves going to these shows, and the atmosphere never intimidates her. I just can't wait to see her continue to develop because she just loves what she's doing, and I'll love to see it happen.""Handsome is newer to me," continued Juliano, "and I'm really thrilled with them too. They're figuring each other out, but there is such great promise there as well. This has been a really thrilling season for me with four horses competing, and it's fantastic to be able to do it here at such a great facility." Juliano also spoke about Jennifer Baumert (USA) and Handsome, a 2005 Hanoverian gelding (by Hochadel x Wyona x Weltmeyer) owned by Juliano. The pair placed fourth in today's competition with a respectable 69.342%.
Taking the second-place position was Lars Petersen (DEN) and Quascai Nexen, a 2008 Danish Warmblood gelding (by Quaterback x Argentinus) with 70.447%. Third place was awarded to Juan Matute Guimon (ESP) and Dhannie, a 2007 Hanoverian gelding (by Don Crusador) owned by Yeguada de Ymas, with 70.368%.
Francis and Matute Guimon Win the Grand Prix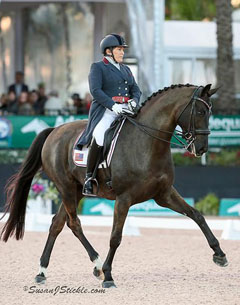 Thursday 16 March had victories in store for Shelly Francis (USA) in the Grand Prix CDI 3* and Juan Matute Guimon (ESP) in the Grand Prix CDI 4*. Francis and Danilo, a 2004 Hanoverian gelding (by De Niro x Andiamo) owned by Patricia Stempel, took the winning spot earlier in the day in the Grand Prix CDI 3* earning a score of 70.020%.
Commenting on her ride, Francis said, "I've really been working with this horse because he's always had so much talent, but always has these little bobbles in the ring where he gets a little behind the leg or he gets nervous. I'm trying to keep him calm, and reminding him to get a little in front of the leg has been tricky. He is kind of evening out now; I've been working him a lot so that he gets more comfortable with giving me a better piaffe. Last year, he would quit frequently; this year he feels much more honest, and even though the piaffe is not as expressive as what he can really do, he stayed there steadily. I want to be able to get him comfortable enough in the arena where I can press him a little more and ask him to be more expressive throughout the test."
The pair have been making steady progress this season at AGDF, continuously working their way up the leader board.
"Overall I'm happy with how he is coming along," continued Francis. "He's been consistent so far this season with trying to stay more honest for me in the ring."
Second place in the Grand Prix 3* was awarded to P.J. Rizvi (USA) and her own Breaking Dawn, a 2001 KWPN gelding (by Akribori x L. Ronald), with 68.200%. Third place went to Anna Marek (USA) and Dee Clair, a 2008 KWPN mare (Sir Sinclair x Rolls Royce) owned by Diane Morrison, with a score of 68.020%.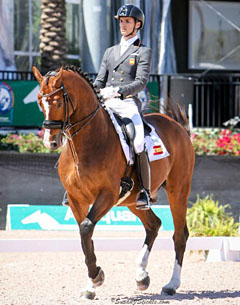 Juan Matute Guimon (ESP) and Quantico, a 2006 Hanoverian gelding (by Fighting Fit) owned by Juan F Matute, bested the competition in the Grand Prix 4* with 68.660%. This is Matute's first Grand Prix victory of the 2017 season.
Overall my horses feel fresh and happy," said Matute of his rides today. "The temperature is lovely so we get the perfect weather with the combination of the coolness but we have the sun, so it's not too cold. Quantico is a hot horse, so with the extra factor of the weather, sometimes the weather can create a little bit of chaos or it can create a great test with lots of energy, like today. I think that we had a couple of mistakes here and there and can of course continue improving, but overall the energy was there and the horse was really willing to work and give me his best. There were many times that I had great feelings." Quantico has been with Matute since he was two years old. "The philosophy in our house when it comes to this sport, is to buy the horses young and build them up. If they are good and have enough quality to stay with our team, we compete them, and if not, we sell them."
He described of his horse, "Quantico was a very challenging horse. He has jumping bloodlines, but for some reason with him, I've always had a special connection. I love all of my horses and have a great connection with them all, but with this horse it's different and it's difficult to explain. Although he was challenging a couple of years ago, he eventually understood that the more we work together, the better and more fun it can be."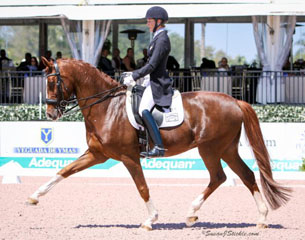 The second-place award went to Arlene Page (USA) and Dr. House , a 2005 Oldenburg gelding (by Don Schufro x Krack C) owned by Page, with 67.600%. Capturing third place in the Grand Prix 4* was Shelly Francis (USA) and Doktor, a 2003 Oldenburg gelding (by Diamond Hit x Renoir I) owned by Patricia Stempel, earning 67.220%.
Friday Night Glory for Francis, Bateson-Chandler, Petersen
Katherine Bateson (USA) and Alcazar were victorious during Friday night's Grand Prix Freestyle CDI 4*. Bateson and Alcazar, a 2005 KWPN gelding (by Contango) owned by Jane Forbes Clark, climbed to the top of the leader board in the Grand Prix Freestyle CDI 4*
"I'm thrilled to win tonight," said Bateson. "Alcazar felt amazing. He always gets a little excited with the clapping, so when we are warming up next to all of the clapping he sometimes gets a bit hysterical. He became calmer as time went on. When he got into the ring, I think he was relieved to take a breath for the rest of my test. He really tried though super hard for me, and that means a lot. We've been through a lot this past year, so this is really special."
Bateson continued, "He had colic surgery during the show in Aachen, and it was quite serious. He had a lot of gut removed. We had incredible surgeons, and we were blessed to be in the right place. I was unlucky to have it happen, but lucky to be where we were. To be honest, he had the surgery and then he never looked back. He was off for three months and then came back, almost better than ever. Just to have him alive, because they didn't give him much of a chance, (and) for him to be back not long after and winning a CDI 4*, is pretty amazing."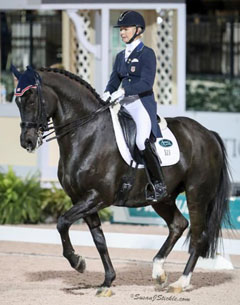 Of her freestyle ride to Bruno Mars' "Uptown Funk," Bateson commented, "It's the same basic music that I had last year, but I knew that I had to increase my degree of difficulty. Marlene Whitaker did this one for me and put her heart and soul into this freestyle. I was determined to have 'Uptown Funk' as my song, as soon as I heard it on the radio. I like to pick my own music, so I went through picking it out and then Marlene worked her magic. I just wanted something fun, because he's that kind of horse. I thought it really fit him."
Second place in the Grand Prix Freestyle CDI 4* was awarded to Shelly Francis (USA) and Doktor, a 2003 Oldenburg gelding (by Diamond Hit x Renoir I) owned by Patricia Stempel, with 72.950%.
"We got through the test without any big bobbles," said Francis, "but we still have little things where he gets a little nervous. This summer he got really afraid of the audience in Rotterdam when we went, so now he's still really afraid of them. Otherwise, he was a little easier to ride than the last show. At least we made our canter pirouettes on the correct lead this time! He's a good boy, and he's really fun. He tries super hard; sometimes a little too hard. He's a really cool horse."
Juan Matute Guimon (ESP) and Quantico took third place with a 71.775%.
Matue rode Quantico to the Grand Prix CDI 4* victory on Thursday. Of his freestyle ride, Matute said, "This is only his second season doing Grand Prix, so I have to keep that in mind when we decide which shows he competes in. The goal is to keep gaining experience in the Grand Prix. He felt really good today, very calm. I was actually worried that with the crowd and the lights and the noises, he was going to be overwhelmed, but today we've learned that he can take the pressure pretty well."
The  Grand Prix Freestyle 3* presented a victory to Shelly Francis (USA) and Danilo. The win was the second of the week for the pair, after a victory in Thursday's Grand Prix CDI 3*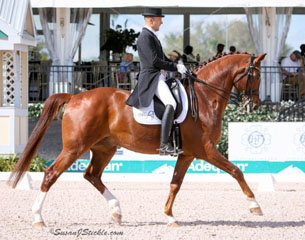 "It was kind of fun," said Francis. "The music was a little new, so he was excited. I was really happy with him. He worked really hard to do everything I asked of him. At one point, I looked up at the big screen and I was like, 'Oh, I've got to go more sideways!' and then, 'What are you doing, pay attention to what you're doing!' It was a funny moment for me. Overall I was very happy with him; he's trying to be more honest in the ring and is doing better and better. He's a talented horse, and I'm just now trying to ask a little more of him because there's a lot more in there."
Barbara Bertschinger (SUI) and Rubin Cortes OLD, a 2001 Oldenburg gelding (by Rubin Royal x Calmiro) owned by Bertschinger, took second place with 68.450%. Third place was awarded to Ellesse Tzinberg (PHI), and her own Triviant, a 2000 Dutch Warmblood gelding (by Olivi x Saluut), with a score of 64.050%.
Earlier in the day, Lars Petersen (DEN) and Quascai Nexen won the Intermediate I with a 69.605%. Second place was awarded to Adrienne Lyle (USA) and Harmony's Duval, a 2008 KWPN gelding (by Rousseau x Riverman) owned by Kylee Lourie, with 68.333%. Lyle also captured third place with Elizabeth Juliano's Horizon with 68.070%.
Text by Carly Weilminster, edited by Eurodressage - Photos © Sue Stickle
Related Link
Scores 2017 CDI Wellington