2017 World Cup Finals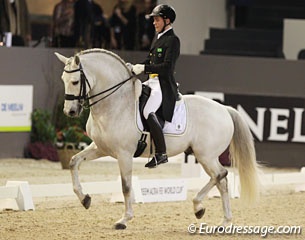 Brazilian Joao Marcari Oliva and Danish Mai Tofte Olesen have received the good news that they have been accepted to compete at the 2017 World Cup Finals in Omaha, NE, U.S.A. on 29 March - 2 April 2017. Marcari Oliva received an "extra starting place", while Tofte Olesen got her spot after several riders dropped out.
Each year the FEI gives away a few "extra starting places" to riders who have stood out in the World Cup qualifiers. In 2015 these "extra starting places" were called ""additional invites" and before that they were "wild cards." In 2015 FEI's Grania Willis told Eurodressage that, ""all invitations are either based on the results in the various leagues, or if some places are still left, distributed based on the FEI World Ranking List among riders who have participated in a minimum of two CDI-W."
For the 2017 World Cup Finals only two extra places have been allocated (e.g. in 2015 there were four).  Brazilian Joao Marcari Olivia (ranked 153 on the World Dressage Ranking) and Xama dos Pinhais got the first place. The Brazilian competed on the Western European League circuit. The FEI told Eurodressage that the Brazilian got that extra starting place, based on Article 8 ("Permanently Domiciled Foreign Athletes') of the World Cup rules:
Athletes permanently domiciled in a country (FEI G.R. 123) of another League must be allowed to qualify in that respective League. If qualified for the FEI World CupTM Dressage Final they would compete as additional Athletes. However, there is only one (1) extra starting place for all Leagues combined for this. If more than one (1) athlete qualify according to this article, the athlete with the highest ranking on the WDRL of February 2018 will receive the extra starting place.
Australian Kristy Oatley (ranked 48 on the World Dressage Ranking) and Ukrainian Inna Logutenkova (#52 on WDR) are also permanently domiciled in Western Europe. They declared for the Western European League and had to obtain their place through the WEL ranking.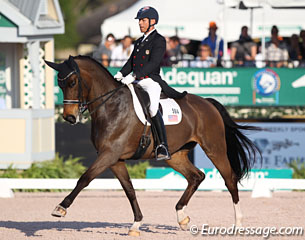 The other extra starting place is still up for grabs between Spanish Severo Jurado Lopez and American Steffen Peters and the spot will be confirmed later this week. However, Severo confirmed to Eurodressage that he is not interested in the extra starting pl ce. 
"Lorenzo and I are not going to Omaha. Right now there many other shows, for example with the stallions," said Jurado Lopez. "The Europeans are more important for me, so I want to make a good outdoor season and focus on that!"
Peters could join Americans Laura Graves and Kasey Perry-Glass who topped the North American League ranking. 
Danish Mai Tofte Olesen got her spot after several qualified riders from the Western European League (WEL) dropped out. Fabienne Lutkemeier decided not to fly D'Agostino, Patrik Kittel indicated early to focus on the 2017 outdoor season and Tinne Vilhelmson confirmed to Eurodressage that she won't be taking Paridon Magi as she'll be moving back home to Sweden after her winter in Wellington.
"I need to go home for our stallion shows that are at the same time. Sometimes it doesn't work out," said Vilhelmson.
This opened up the spot for newcomer Mai Tofte Olsen on her grey Danish warmblood Rustique.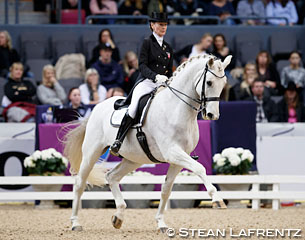 "It's totally wild and crazy, I'm so happy," Tofte Olesen told Eurodressage. "Rustique and I are going to Omaha! So much looking forward. It's the biggest thing I have ever tried."
The next in line on the WEL in case of drop outs is Ukrainian Inna Logutenkova, who scored the same amount of qualification points as Tofte Olesen, but whose score average was lower than the Dane.
Western European League
1. Isabell Werth / Weihegold OLD or Emilio GER
2. Jessica Von Bredow-Werndl / Unee BB or Zaire-E GER
3. Judy Reynolds / Vancouver K IRL
4. Kristy Oatley / Du Soleil AUS
5. Carl Hester / Nip Tuck GBR
6. Marcela Krinke Susmelj / Smeyers Molberg SUI
7. Madeleine Witte-Vrees / Cennin NED
8. Edward Gal / Voice NED
9. Mai Tofte Olesen / Rustique DEN 
Central European League
1. Inessa Merkulova / Mister X RUS
2. Hanna Karasiova / Arlekino BLR
Pacific League
1. Wendy Williamson / Dejavu MH NZL
North American League
1. Laura Graves / Verdades USA
2. Kasey Perry-Glass / Goerklintgaards Dublet USA
Non-League
1. Maria Florencia Manfredi / Bandurria Kacero ARG
Title Defender
1. Hans-Peter Minderhoud / Flirt NED
FEI Extra Starting Places
 1. Joao Victor Marcari Oliva / Xama Dos Pinhais BRA
2 TBC
Photos © Astrid Appels - Stefan Lafrentz
Related Links
Eurodressage Coverage of the 2016-2017 World Cup Circuit 
Fabienne Lutkemeier Withdraws from Competing at 2017 World Cup Finals
Mai Tofte Olesen Skips Den Bosch, but Hopes for Omaha