German Breeding News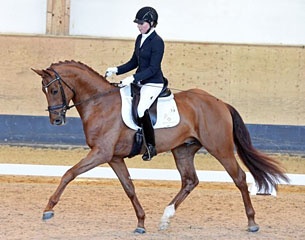 The 4-year old Dimitroff and 5-year old Villeneuve became the high scoring colts at the first 2017 German Stallion Sport Test held in the south of Germany, in Munich, on 10 - 12 March 2017.
Thirteen 4-year olds and three 5-year olds gathered in Munich for the mandatory Sport Test. In the 4-year old division no less than five of the entered stallions did not make the cut! Final Decision (by Furst Romancier) dropped out and Flashback (by Franziskus), Formidable Star (by Franziskus), Intarsio (by Ovaro) nor Videostar (by Vitalis) were able to score the minimum criterium of 7.5. Their licensed status has therefore been revoked. The three 5-year olds all passed.
Bred by Friedrich and Edda Kröner, owned by Sissy Max-Theurer and trained by Laura Strobel, the Hanoverian registered Westfalian reserve licensing champion Dimitroff (by Dimaggio x Brentano II) became the high scorer in the 4-year old division. He scored 8 for trot, 8.7 for canter, 8.8 for walk, 8.5 for rideability and 8.7 for general impression to finish on a total score of 8.52. The second best scoring stallion was the Trakehner licensed Freiherr von Stein (by Millennium) with a total of 8.38. He got 8.5 for trot, 8.2 for canter and walk, and 8.5 for rideability and general impression. 
In the 5-year old division Sissy Max-Theurer's Villeneuve (by Vitalis x Dancier) was the top scorer of the entire testing with an 8.88 total. This Westfalian licensed and Rhinelander bred stallion got 9 for trot and canter, 8.4 for walk and 9 for rideability and general impression. Boss Hoss (by Belissimo M) scored 8.18 and Le Chic (by Laurice) just made it with 7.52.
The Munich sport test was the fourth one taken place in 2017 so far.
Complete results here (pdf file)
Related Links
Devonport and Don Martillo, High Scorers at 2017 Stallion Sport Test in Verden
Destacado, High Scorer in Second 2017 Stallion Sport Test in Munster
Bonds, High Scorer at 2017 German Stallion Sport Testing in Munster
Villeneuve and Tocanto Stand Out at 2016 May Stallion Performance Testings
Eighty-Two Colts Accepted for 2015 Westfalian Stallion Licensing