Canadian Dressage News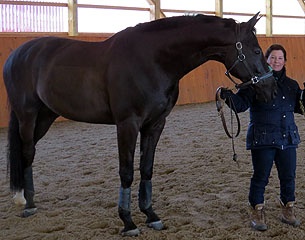 Canadian Grand Prix rider Cindy Ishoy retreated from the limelight on the international dressage scene after the unexpected passing of her husband Neil on 4 November 2015. The multiple Canadian team rider has not given up on dressage though and with her new rides San Remo and Scarlett she has found a silver lining.
Back in 2014 a group of Cindy's friends got together and purchased the now 9-year old German Sport Horse gelding San Remo (by Quainton x Landrebell x Firebird) after her last Grand Prix horse Samurai sustained a serious injury. San Remo has been nick-named Sakima in the barn.
"Sakima has been developing well over the last two years but he is a very tall and leggy and needs time," Ishoy explained.
The unexpected death of husband Neil took the wind out of her sails though, but with the continuous support of her friends she ventured back out to Europe to scout a second horse and discovered the 5-year old German Sport Horse mare Scarlett (by Sandro Song x Uckermaerker). 
The small mare Scarlett was initially intended for a client, but Cindy felt a very strong connected with the mare and it gave her the desire again to develop another horse to top level.
"This is the first time since Dynasty that I have such a special feeling for a horse," said Ishoy, who is thinking of registering the so far unnamed Scarlett as Sakura.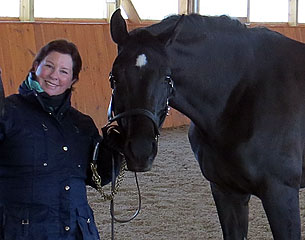 After a four year break from the show ring and having ridden her last CDI in 2009, Cindy has planned on making her return probably in 2018. Cindy has suffered from the loss of her mentors and support network including Schultheis, the Burns family and her deceased husband Neil Ishoy but she is rebuilding. 
"It is so important to have a strong support team for success," she admitted. "As a trainer you must surround yourself with people that provide professional, honest feedback and you must always look inward to understand how the horse can be better prepared."
Photo © Isabel Dopta
Related Links
Dynasty, A Horse Who Lived Up To His Name 
Neil Ishoy Passed Away
Canadian Olympian Cindy Ishoy Named 2010 Dressage Canada Owner of the Year
Cindy Ishoy Prepares for the Dressage World Cup Final
Cindy Ishoy Shines at the Canadian Dressage Olympic Final Selection Trial