2016 CDI Nice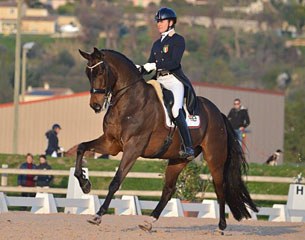 Italian Grand Prix rider Norma Paoli Cirocchi has clinched her first international victories aboard her number one horse Zandor at the 2017 CDI Nice in France, which took place on 17 - 19 February 2017. The duo took home the trophies in the Grand Prix and Special.
Paoli and the 13-year old Dutch warmblood Zandor (by Florencio x Amulet) scored 70.540% in the Grand Prix, besting a field of 24 riders, of mainly French riders. In the Grand Prix Special they posted 71.196% on the board for the win.
"Zandor was very concentrated and willing to deliver a good performance," Paoli told Eurodressage. "This competition was the first outdoor event of the season and I couldn't think about a better result!"
Zandor was previously owned by American Laura Wharton, who discovered the bay in 2006 at Nijhof's in The Netherlands. Wharton and the bay contested the 2008 and 2010 U.S. Young Horse Championships as well as the 2012 U.S. Small Tour Championships before taking gold at the 2013 U.S. Developing Prix St Georges horse championship. In December 2013 the horse was sent to Denmark to be sold. Zandor was acquired by Paoli's sponsor Equitago in January 2016.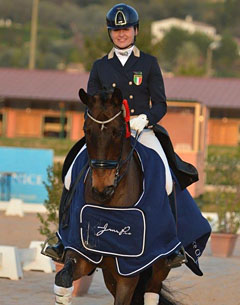 "I am into dressage for 12 years even though I have devoted all my life to horses, both competing and following my students who are still giving me a lot of emotions," Norma explained. "Before dressage I was much more involved into jumping until the day I have tried the dressage arena which became immediately my life passion."
The 41-year old Paoli began working with Anky van Grunsven in The Netherlands at the beginning of 2016 and last December she returned back home to Italy. She is based at "Scuderia della Malaspina" in the countryside right outside of Milan. In the past she has also trained with Enzo Truppa and now that she is back in Italy she has Federico Addari as her eyes on the ground.
"I had the opportunity to work with different instructors from whom I learnt a lot," said Paoli. "Anky, however, will certainly remain an important point of reference for my future career."
Paoli made her international Grand Prix debut in 2008 on Zaneta Skowronska's former ride Goldamos (by Ramox x Soulfleur). She has also competed Leadman Corda (by Landfriese x Derik) and Tatler at Grand Prix level before Zandor. Her partner had bought Tatler at Carl Hester's yard after Charlotte Dujardin had shown him. The now 17-year old Ferro x Amsterdam offspring was sold as a schoolmaster to Lisa Müller in Germany in 2015. 
Paoli has a few more young horses in the barn, including the 6-year old Hanoverian mare Lisara (by Lissaro van de Helle x St. Moritz). The mare won the 6-year old Finals tests at the 2017 CDI Nice with 80.4 points.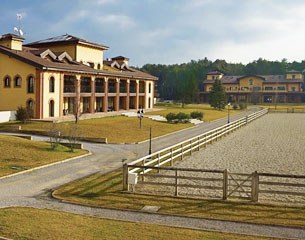 "I am riding several hours a day, working with young horses which give me a lot of positive feelings. It is great to see them growing day after day, building since a very early age an incredible connection, making mistakes and getting forward in the exercises together."
For 2017 Paoli is careful not to jinx her chances for team selection for the 2017 European Dressage Championships in Gothenburg, Sweden. 
"I am not yet thinking of the European Championship and I prefer to focus on competition after competition, trying always to improve my performance from the previous one, both with my young talented horses and with Zandor," said Paoli. "Potentially I will attend to some of the greatest competitions in Austria though we are still working on our planning but the idea is definitely to test our preparation with the best riders."
Photos © Franck Marioton
Related Links
Scores 2017 CDI Nice
Enzo Truppa's Students Not Available for 2017 Italian Team Selection
Hannelinde TC, Price Highlight of the 2016 Excellent Dressage Sales
Berni, Remold, Menin, Redaelli, Truppa Win 2014 Italian Dressage Championships
Pierluigi Sangiorgi Wins 2008 Italian Dressage Championships
Anna Paprocka Wins the 2006 Italian Freestyle Championships