Australian Dressage News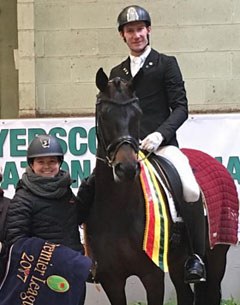 Australian Grand Prix rider Jayden Brown has made a short, but maybe career altering trip to Great Britain to compete four of Mount St. John's young horses in the British premier league national show at Myerscough College on 1 - 4 March 2017.
Brown made his British competition debut starting with Mount St. John's 6-year old Oldenburg mare Top Secret (by Totilas x Dacaprio). He scored a winning 8.66 points in the 6-year old young horse class in a field of 10 combinations. The pair also placed fourth in the Medium test with 68.24%.
Aboard MSJ Furstin Rosa (by Furst Romancier x Conteur) he landed 6th place in the 4-year old division with 7.26. On Saturday 4 March Brown also showed Mount St. John Zonetta (by Zonik x Riccione) in the 5-year old division and placed fourth with 8.02 points. With Mount St. John Forever (by Franziskus x Landstreicher) he was 8th with 7.78 points. 
"Jayden arrived in the U.K. at the end of last week and came with us to help at Myerscough for the first premiere league of the year," said MSJ's owner Emma Jane Blundell, who met Jayden for the first time at Equitana Australia a few years ago.
When asked if Brown has been hired as MSJ's new assistant trainer, the Australian replied, "I haven't relocated just yet. Home to Brisbane next week but it's something I'm looking at in the future." Blundell rung in and added, " it's a one off for now but we hope it's the start of more to come in the future."
Related Links
San Andreas Sold to Charlotte Haid-Bondergaard as 2020 Tokyo Hopeful
The Australian Effort at the 2013 World Young Horse Championships in Verden
Jayden Brown to Represent Australia at the 2008 FEI Young Rider World Cup
Mount St. John Looking Forward to Another Fabulous Foal Season in 2017
Mount St. John: a Foals' Paradise Aiming for High Performance Sport