2017 CDN Wellington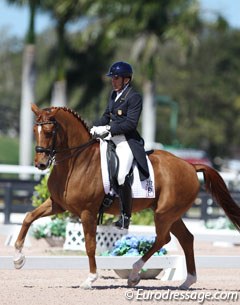 American Grand Prix rider Cesar Parra and his 2016 U.S. reserve young horse champion Don Cesar have taken their first steps in the 7-year old division at the 2017 CDN Wellington on 10 - 12 February 2017, posting strong scores and opening a window for qualification to the 2017 World Young Horse Championships in Ermelo, The Netherlands. Owned by Cesar's wife Marcela Ortiz, Don Cesar is the first business project of the long-time married couple.
Parra and Don Cesar competed in two 7-year old practice tests in Wellington two weekends ago with a whopping 77.910% and the victory on Saturday.
"I was so happy with Don Cesar," Parra explained. "He has grown up so much in every way in the last year. He felt confident and was really trying his best for me."
In the summer of 2016 the pair became the silver medal winners at the U.S. Young Horse Championships in the 6-year old division and the past half year they have worked at developing towards Prix St Georges level. 
"Don Cesar has matured a lot in the last year. His gaits are getting even more expressive and elastic and he is more confident in his job, said Cesar. "He has so much talent for collection, while keeping the suppleness and thoroughness in the back, it is amazing. He is powerful and sensitive, but always is trying to do what you want.  He is a fast learner, and is very reliable.  He always stays on your side, and he loves all the collected movements, whether it is piaffe, passage, or canter pirouettes; he really loves it."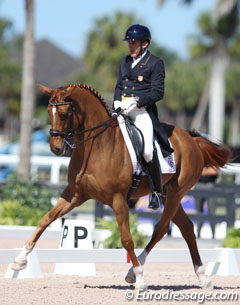 With the elegant chestnut showing so much progress and producing his first strong scores in the 7-year old division, Cesar dares to dream about qualifying for the 2017 World Young Horse Championships in Ermelo, The Netherlands, next August. 
"We just started him in the FEI 7 year old tests for the first time that weekend. His debut was amazing," said Cesar. "The 7 year old tests are a good fit for him and if he feels ready we will try to qualify him for the World Championships."
Don Cesar is a 7-year Westfalian gelding by Desperados x Manhattan. He is owned by Parra's wife Marcela Ortiz who received the chestnut as a 25th wedding anniversary present. 
"Cesar and I actually own everything together but when Cesar saw how happy I was about this horse he decided to give it to me as a present for our 25th anniversary," Ortiz told Eurodressage. "I first met Don Cesar when he was only a few months old.  He was always passaging around his mom, all the time so happy and proud of himself.  Our close friend Mathieu Beckmann decided at that moment that this baby should be named "Don Cesar" and that it must be Cesar's horse. When he was 3 years old we bought him."
When asked if it is difficult to manage a business relationship alongside a personal one with her husband, Ortiz smiled and said, "people know I'm generally afraid of horses, but this hasn't stopped me from enjoying and sharing in this great passion that my husband has for horses and animals."
She added that she has all confidence in her husband. "I know very well the way he trains and the way he loves and cares for the horses, and all of our animals, so I can totally rely upon him. I love to go out to the arena and watch and I always feel free to say what is in my mind.  I know that Cesar listens to me and takes into consideration my opinions.  If I have something to say I do it at the barn; after a long working day I don't want Cesar to have to talk about work when he gets home. I think this has been our secret to success."
Marcela says that two horses have been extremely special to her particularly in their family's dressage business, Cinbad and Don Cesar.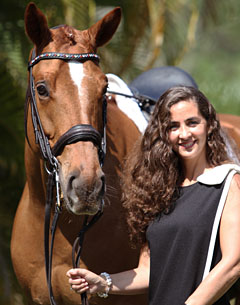 "In our 27 years together I have had contact with a lot of these beautiful animals, but only in two cases did I feel a special connection.  The first horse was Cinbad.  He and Cesar had so much success together, including a medal at the Pan American Games, and we really owe a lot of our move to the USA to Cinbad. He would always give me the feeling that I could trust him. And with Don Cesar I have a similar feeling, even though he is still quite young.  He lets me be close with him, and pet him or hold him without barely moving, like he doesn't want to scare me, like he is protecting me or taking care of me. He is so beautiful and talented.  What I like most about him is his honesty; he gives Cesar 100% of what he has and is always connecting with him – they really work well together.  It is really a pleasure to watch them work, like a perfect picture. Don Cesar is already giving us great moments, and I am really enjoying the journey as "the owner".  And for as long as I have him I am going to love and spoil him in return."
Ortiz revealed that they also recently acquired an offspring by Don Cesar.
"This year is our 27th anniversary and I got another amazing present, Don Cesar Junior, but who I am calling just "Junior"," said Marcela. " He is as beautiful and talented as his Dad.  I can see a brilliant future for both Don Cesar and for Junior, and that makes me so happy and excited.  I am a proud owner."
Photos © Astrid Appels - private
Related Links
Parra's Fashion Designer and Don Cesar Bag Reserve Champion's Title at 2016 U.S. Young Horse Nationals
Piaffe Performance Is Winning Ribbons and Presenting Medals at 2017 Global Dressage Festival
It's Another Year in the Ribbons for Piaffe Performance at the 2016 Dressage at Devon
Cesar Parra and Advanced Helmet Line KEP Italia Form a Winning Partnership