Hanoverian Breeding News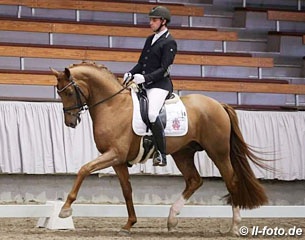 One week after the inaugural stallion sport test in Munster-Handorf, a second testing was held on 14 - 16 February 2017 at the same venue. The 4-year old chestnut Destacado became the top scoring stallion of the 3-day testing.
Fifteen 4-year olds and seven 5-year olds participated and quite a few well known names appeared on the participants' list. On the first day of the testing, the judges had quite a few comments on the not so good presentation of some of these big name sires, which were ridden with a short neck (Destacado) and in an unnatural way of moving (Don Martillo). However on day two and three the critical mood turned round and the quality of those horses came through under the guest judge rider who was expertly coached by Oliver Oelrich. The German stallion sport test had a high education value and should be a must-visit for any breeder who wants to be well informed.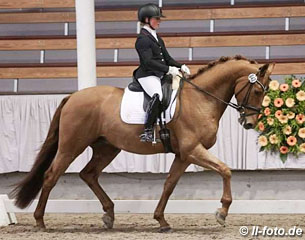 Ann Kathrin Linsenhoff's Hanoverian bred Destacado (by Desperados x Londonderry) became the high scorer with 8.7 for trot, 9 for canter and walk, and 9.5 for rideability and general impression. He finished on an average of 9.14 points.  The Westfalian premium stallion Rosendiamant (by Rohjuwel) was the runner-up with an average of 8.46. He got 8 for trot, 8.5 for canter, 8.8 for walk, and 8.5 for rideability and general impression. Paul Schockemohle's Feinrich (by Furst Heinrich) was the third best scorer with 8.33. 
The Trakehner licensed Sir Samao (by Millennium) underwhelmed and only finished on an inadequate 6.86 total. Also the Millennium son Halleluja failed to impress and did not complete the testing whereas Millennium offspring Majerus only scored 7.24 which is not enough to stay licensed. Gestut Sprehe's Marc Cain (by Millennium), however, passed with an 8.26 total.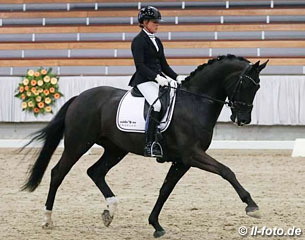 In the 5-year old group which was judged by Peter Mannheims, Reinhard Richenhagen, Oliver Oelrich and test rider Philipp Hess, the Bundeschampion Don Martillo (by Don Juan de Hus) scored the highest marks. He got a total of 8.57 with 8.8 for trot, 8.9 for canter, 9.5 for walk, 7.5 for rideability and 8.8 for general impression. The second best scoring 5-year old was the Danish warmblood Dreamline (by Don Olymbrio L) with a total of 7.95 points. The dark bay earned 8.4 for trot, 8.0 for canter, 7.5 for walk, 7.8 for rideability and 8.3 for general impression.  Failing to impress were Celencio (by Cennin) with 6.62 and Symphonic (by Sir Heinrich) with 6.6.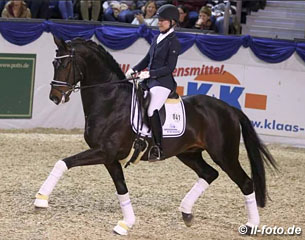 The minimum score for stallions to retain their "licensed" status is 7.5 in the sport test. The 4-year olds who fail can do the sport test again (or the 50-day testing) as a 5-year old but they will not be allowed to breed for one season.
Complete results here (pdf file)
Photos © LL-foto
Related Links
Bonds, High Scorer at 2017 German Stallion Sport Testing in Munster
German Stallion Performance Testing Undergoes Further Changes, Suitability Tests in 2017
New Format for German Stallion Performance Testing Launched in 2016