Canadian Dressage News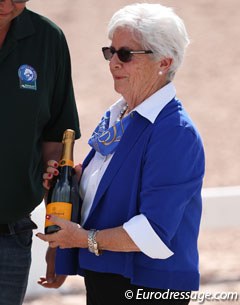 Canadian 5* dressage judge Cara Whitham will be retiring as a 5* dressage judge this year and has judged her last CDI Wellington on Sunday 12 February 2017. Whitham has reached the FEI age limit of 72 and will no longer be allowed to judge international shows after 2017.
Originally from Stoney Creek, Ontario, Whitham is one of very few 5* judges in both dressage and eventing. Whitham was one of only two Canadian judges with 5* status alongside Elizabeth McMullen. Cara obtained her 5*/O-status in 2004.
Whitham judged eventing at the 1998 and 2002 World Equestrian Games and at the 2004 Olympic Games in Athens. She officiated as a dressage judge at major events such as the 2005 European Championships, 2010 World Equestrian Games, and 2011 Pan American Games. In 2010 Whitham had a big health scare when she suffered a stroke but she recovered well.
In 2013 she was also appointed to Dressage Canada's High Performance Team of Experts to help lead Canada to the 2014 World Equestrian Games. Through her company Equivents Whitham also runs dressage shows in Canada.
The FEI has set the age limit for judges at 70 with a possibility for a two year extension. Whitham was thanked for her services in Wellington with a special acknowledgment and she received a bottle of Veuve Cliquot.
Photo  © Astrid Appels
Related Links
Eurodressage Photo Database: Cara Whitham
Cara Whitham Appointed to Dressage Canada's High Performance Team of Experts
Cara Whitham Resumes Judging Schedule
Cara Whitham Featured in Dressage with the Experts at 2005 World Cup Finals
FEI Judges Clinic with Cara Whitham in New Zealand 
Cara Whitham Featured in Dressage with the Experts at 2005 World Cup Finals