American Dressage News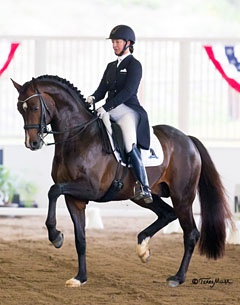 German born U.S. Grand Prix rider Sabine Schut-Kery has been awarded the 2017 Carol Lavell Advanced Dressage Prize in the amount of $25,000 from The Dressage Foundation.
She was selected because she displays the characteristics and qualities of being a talented, committed, qualified rider whose plans are to reach and excel at the elite, international standards of high performance dressage.
Sabine is based in Thousand Oaks, CA, where she trains and competes with her 2006 Hanoverian Stallion, Sanceo, owned by Alice Womble-Heitman and Dr. Mike Heitman. Sabine's goals for 2017 include developing Sanceo to be internationally competitive at Grand Prix and qualifying for the 2018 World Equestrian Games to represent the US. She plans to train intensively with Christine Traurig in northern California this spring, and then spend eight weeks in Europe training with Jan Nivelle and gaining European competition experience.
"My sincere thank you to Carol Lavell and TDF; I am beyond excited and honored to receive this generous Prize! It is fantastic that this Grant gives many riders the opportunity to take their riding and the development of their horses to the next level of excellence," Sabine said. "In my case, I will be able to focus solely on Sanceo while traveling this year to Europe for intensive training and competition. The Prize will also help me achieve my goal to develop Sanceo into the best possible International Grand Prix horse with the help and support from my long time coach, Christine Traurig. Thank you to TDF and my supporters!"
The Carol Lavell Advanced Dressage Prize Fund was established in 2009 in special remembrance of Carol's mother, May Cadwgan, and in honor of her father, Gordon Cadwgan. Since that time, the Prize Fund has made eleven awards totaling $275,000 in support of U.S. High Performance teams.
Photo © Terri Miller
Related Links
Laura Graves, Recipient of the 2016 Carol Lavell Advanced Dressage Prize Fund
Olivia Lagoy-Weltz Awarded $25,000 Carol Lavell Advanced Dressage Prize
Heather Mason Awarded $25,000 Carol Lavell Advanced Dressage Prize
Shawna Harding Awarded $25,000 "Carol Lavell Advanced Dressage Prize'" Training Grant
Courtney King-Dye Awarded the $25,000 Carol Lavell Advanced Dressage Prize
Brian Hafner and Kathleen Raine, Recipients of Carol Lavell Advanced Dressage Prize
Lyle and McCusker Awarded $25,000 Carol Lavell Advanced Dressage Prize