Oldenburg Breeding News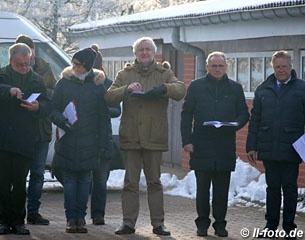 Sixteen colts have been accepted to participate in the 2017 Oldenburg Saddle Licensing in Vechta, Germany, on 30 March - 1 April 2017. All of them are 3-year olds.
The Oldenburg breed society is organizing the saddle licensing for the 6th time and it co-incides with the Spring Elite Auction, which celebrates its 86th edition. 
A strong foreign interest and participation can be noticed of the 2017 Oldenburg saddle licensing. Three colts are Danish bred, two Belgian bred, and two colts are Dutch and British bred
The selected colts are
n.n. (by Bordeaux x Argentinus) - breeder: Rainer Berding
n.n. (by Bretton Woods x Sandro Hit)  - breeder: Josef Wernke
MSJ Cashmere (by Charmeur x Totilas) - breeder: Mount St. John Equestrian (GB)
HP Damian (by Damon Hill x Fürst Romancier) - breeder: Lone Boegh-Hendriksen (DK)
n.n. (by Dressage Royal x Sir Donnerhall) - breeder: Dr. Katharina Paschertz
HP Escalibur (by Escolar x Sir Donnerhall) - breeder: Lone Boegh-Hendriksen (DK)
n.n. (by Grey Flanell x De Niro) - breeder: Erik Smeys (BEL)
San Amour II x De Niro) - breeder: Auwers & van Orshaegen (BEL)
Tresor Noir (by Totilas x De Niro) - breeder: Bernadette Brune
n.n. (by Vivaldi x Samarant )- breeder: Willem Klausing 
Texas Tokyo (by Tomahawk x Zack) - breeder: Lena & Rasmus Dalsgaard (DK)
Jackass (by Desperado x Jazz) - breeder: Fam. Andeweg (NL)
n.n. (by Veneziano x Don Gregory) - breeder: Zuchtstall Kotschofsky
n.n. (by Millennium x Swarovski) - breeder: Dieter Schulte
n.n. (by Totilas x Sandro Hit) - breeder:  Jobst Hartmann
n.n. (by Fürst Larino x De Niro) - breeder: Georg Brueggemann
Related Links
Zodiakus, Champion of the 2016 Oldenburg Saddle Licensing
Boreas, Champion of the 2015 Oldenburg Saddle Licensing
Fursten-Look, Champion of the 2014 Oldenburg Saddle Licensing
Best of Gold, Champion of the 2013 Oldenburg Spring Stallion Licensing
Furstenstein, Champion of the 2012 Oldenburg Spring Stallion Licensing