American Dressage News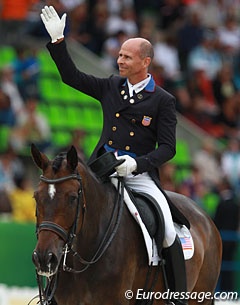 Dawn White-'O Connor, Steffen Peters' long-time assistant trainer, has taken over the ride on Akiko Yamazaki's 15-year old Westfalian gelding Legolas. From 2013 till 2015 Legolas has been America's number one Grand Prix horse, medal winner and team anchor. Since 2014 Legolas received competition from Laura Graves' Verdades and in 2016 the Westfalian became the country's number two at international shows.
The news of Legolas' new rider became known with the publication of the 2017 CDI-W Las Vegas starting lists on Tuesday 3 January 2017. White- O' Connor, who is Peters' former groom-gone-assistant trainer, will make her show debut on Legolas in Las Vegas this weekend.
Steffen Peters and Legolas (by Laomedon x Florestan II) racked up an impressive resume over the years, winning the U.S. Dressage Championships three years in a row (2012, 2013, 2014), and becoming reserve champion in 2015. He achieved 10th place finish in the Kur at the 2014 World Equestrian Games, contested the 2015 World Cup Finals and won team and individual gold at the 2015 Pan American Games. At the 2016 Olympic Games the horse won team bronze and was 12th in the Kur to Music finals.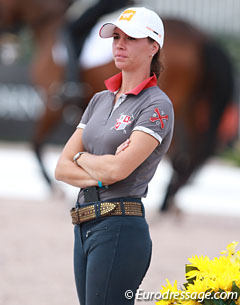 In 2017 Steffen Peters is shifting his attention to Akiko's younger Grand Prix horse, the 10-year old Rhinelander mare Rosamunde (by Rock Forever x Fidermark). The 28-year old Dawn White-O' Connor has received the opportunity of a lifetime to continue Legolas' show career. 
"Steffen and I made the decision after the Rio Olympics to give the ride to Dawn to give her a chance to develop into an international Grand Prix rider," Legolas' owner Akiko Yamazaki told Eurodressage. "Legolas is still very healthy and fit.  I have known Dawn for almost ten years. She first worked as Lombardi and Ravel's groom for me. We believe she can be an asset for team USA in the future."
Peters, who is competing Yamazaki's Bailarino in the small tour at Las Vegas, will also be making his Grand Prix show debut on a brand new horse, Wizard Banamex. The 15-year old Danish warmblood is better known as NOH's Wizard (by White Talisman x Ragazzo) and is owned by Mexican Lourdes Arzio and Paloma Munoz.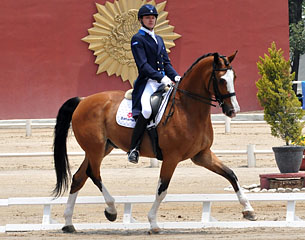 As a youngster NOH's Wizard was competed by Danish Astrid Gemal who took him to the 2008 World Young Horse Championships in Verden, where he placed fourth. He then sold to Mexico and was competed by Antonio Rivera Galarza and later on by Jesus Enrique Palacios. The latter rider represented Mexico on Wizard at the 2015 Pan American Games, where they were 10th overall after the Inter I Kur finals.
Photos © Astrid Appels - Castro
Related Links
Legolas Named 2016 USDF Grand Prix Horse of the Year
Las Vegas Melodrama
Palacios Makes it a Hattrick at Third 2015 Mexican Pan Am Selection Trial 
Palacios Strengthens Position on Mexican Pan Am Team Ranking after 2015 CDI Mexico City
Enrique Palacios Wins First 2015 Mexican Pan American Selection Trial at Tultepec
NOH's Wizard Sold to Mexico
Strange Ranking for NOH's Wizard and Vivaldo
Scores: 2006 North American Junior and Young Riders Championships