2016-2017 KWPN Stallion Competition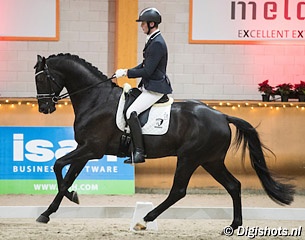 The rising 5-year old Hometown, the 6-year old Guardian S and the 7-year old Foundation became the winners of the third and final leg of the 2016-2017 KWPN Stallion Competition of which the finals will take place at the 2017 KWPN Stallion Licensing in 's Hertogenbosch in February. The third qualifier took place in Zuidbroek, The Netherlands, on Tuesday 3 January 2017.
In the L-division Diederik van Silfhout steered the black Hometown (by Apache x Ferro) to victory with 90 points. Judges Monique Peutz and Christa Larmoyeur praised the horse for its talent and correct presentation. He scored 9 for trot and potential and 9.5 for canter and harmony. The pair beat the winners of the second leg, Adelinde Cornelissen and Henkie (by Alexandro P x Upperville), by one point. The bay Guelderlander stallion stood out with his basic gaits, but struggled with the transitions and was often short in the neck. Marieke van der Putten rode the Rhinelander bred Trafalgar (by Totilas x Lord Loxley) to a third place with 86 points. The bay stallion was a bit unsettled at the beginning of the test but improved along the way. Big absentee at the Zuidbroek qualifier was Vai Bruntink on the performance test winner Hennessy (by De Niro x Jazz x Ulft). The black sustained a minor tendon injury and is out of action.
At M-level the battle between Guardian S and Toto Jr was won by the former. Under Kirsten Brouwer, the bay KWPN stallion (by Bodyguard x Trento B) was the last to go and produced the highest score of 94 points on the board, despite a hesitant walk and a lack of throughness at the start of the ride. Van der Putten and the Hanoverian bred Toto Jr (by Totilas x Desperados) were second with 92 points. Brouwer and the German bred Ferguson (by Floriscount) landed third place with 85 points. 
Dutch young rider Franka Loos bested the small field of four combinations in the Z-level division aboard the Singaporian owned KWPN stallion Foundation (by United). The liver chesnut produced a smooth ride and scored 84 points, referring the winner of the first two rounds, Four Legends (by Wynton x Ferro) to a second place. Under Stephanie Kooijman the elegant black stallion struggled with the counter canter and flying changes and managed to score 82 points. Annemarie Brouwer and the KWPN bred Electron (by Ampere) were third with 72 points.
Photo © Digishots
Results - 2016-2017 KWPN Stallion Competition - Zuidbroek
L-division
1. Hometown - Diederik van Silfhout - 90
2. Henkie - Adelinde Cornelissen - 89
3. Trafalgar - Marieke van der Putten - 86
4. Daily Daimond - Dana van Lierop

 - 84
5. Total U.S - Dinja van Liere

de Weelruiters - 83
6. Habanna - Kirsten Beckers - 79
7. Hitmaker - Jennifer Sekreve - 77
8. Hermes - Dinja van Liere -76
9. Hummer - Kirsten Brouwer - 75
10. Hero ACB - Astrid Reinders - 71
11. Hero SB - Krista Lensing - 69
M-division
1. Guardian S - Kirsten Brouwer

- 94
2. Toto Jr. - Marieke van der Putten - 92
3. Ferguson - Kirsten Brouwer

- 85
4. Governor - Adelinde Cornelissen - 85
5. Glamourdale - Anna Blomgren - 84
6. Geniaal - Marieke van der Putten - 84
7. Galaxy - Diederik van Silfhout - 82
8. Ghandi - Kirsten Brouwer - 81
9. George Clooney - Charlotte Fry - 80
10. Crosby - Charlotte Fry - 77
11. Gironn - Marieke van der Putten - 77
Z-division
1. Foundation

 - Franka Loos - 84
2. Four Legends KS - tephanie Kooijman - 82
3. Electron - Annemarie Brouwer - 72
4. Feel Good - Marlou de Ruijter - 71
Related Links
Henkie, Guardian S, Four Legends Win Second Leg of 2016-2017 KWPN Stallion Competition
Daily Diamond, Toto Jr, Four Legends Win First Leg of 2016-2017 KWPN Stallion Competition