Training Your Horse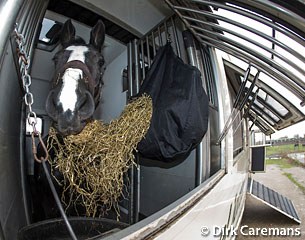 Researchers Neveux, Ferard, Dickel, Bouet, Petit and Valenchon of the Universities of Caen and Strasbourg carried out a study in which they tested the effect of classical music during stress episodes in transport and farriery. They found that playing music reduced stress during transport, which could lead to safer management practices and better welfare.
This French team of researchers presented their study at the 2016 International Equitation Science Conference in Saumur, France, on 23 - 25 June 2016.
Domestic horses are regularly subjected to stressful situations due to management practices, such as social isolation, transport and farriery or, in general due to exposure to new/sudden stimuli. These situations may eventually be harmful to the horses' welfare, possibly altering their relationships with humans and increasing the risk of safety hazards for horse and people. In this context, the study's goal was to develop a simple procedure that may reduce animal stress when subjected to such acute stressors.
The procedure consisted in providing classical music to horses. Indeed, music has been proven to possess relaxing effects on various animal species. In horses, it has been shown that the diffusion of classical music regulates heart rate and reduce violent behavioural reactions when played in the horse's environment during long-term stressful situations.
The Study
The research team tested the effect of classical music (Forest Gump theme) played with an in-ear device on the intensity of stress reaction when horses were exposed to two stressful situations: short-term transport (±21 min) and farriery. The study was carried out at a French National Stud (Haras du Pin, France) on 48 saddle horses divided into 2 groups: one on Transport and one on Farriery.
Each horse was subjected to a stress episode (Transport or Farriery) in three different conditions: "music" (classical music played via an in-ear device), "sound attenuation" (with earplugs) and "control". During transport, the diffusion of classical music decreased several stress indicators (e.g. ears backward) and induced a faster post-stress heart rate recovery. During farriery, the effects on behaviour were not significant but music to accelerate the post-stress heart rate recovery. Playing music with the in-ear device did not induce any sign of discomfort or stress during the whole experiment.
When comparing the two types of stressors, transport was more stressful than farriery (e.g. heart rate).
Conclusion
From a physiological and behavioural point of view, classical music appears to reduce the intensity of stress responses to these common management practices, which can have several applications. Less stressed horses are less likely to exhibit dangerous behaviours, such as fleeing or kicking, which reduces the risk for humans moving around them.
Also, repeated acute stress can lead to chronic stress which is detrimental to horse welfare (becoming manifest as health and behavioural consequences). Reducing the impact of acute stress will also prevent the onset of chronic stress and contribute to this fundamental component of welfare that is the absence of fear and distress.
Source: ISES - Photo © Dirk Caremans
Related Links
ISES Suggest to Empower FEI Stewards to Control Tightness of Noseband
Is It Possible to Judge If a Horse is a Happy Athlete?
The Rise of Equitation Science Recognized at 2012 ISES Conference
ISES 2011 Bridging the Gap Between Science and Practice