Canadian Dressage News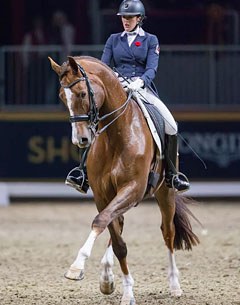 The Canadian equestrian federation (EA) has announced a redesign of the Dressage Levy Program for the 2017 competition season so that it will focus more on talent identification and personal development.
The Program has undergone changes to refocus on two areas that are critical to the success of dressage athletes and sport in Canada:
Talent Identification: In order to foster a strong community of up-and-coming dressage athletes, a portion of Dressage Levy Program revenue will be directed toward Talent Identification. This will help ensure the next generation of dressage athletes receive the recognition and support needed to pursue a future representing Canada on the world stage.
Personal Development: Another key area that will receive funding through the Dressage Levy Program is Personal Development for dressage athletes, coaches and officials. As with any sport, there are many pieces to the puzzle when it comes to success on the field of play. Therefore, EC will offer sessions with industry experts in vital areas, such as: Fitness and nutrition, equine health, mental coaching, performance analysis, media training.
In order to provide a venue in which the Talent Identification and Personal Development programs can be offered to the dressage community in Canada, funds collected from EC sanctioned dressage competitions will be used to facilitate an annual symposium. Competitors who have contributed to the Dressage Levy Program through competition entries will have access to a variety of free and discounted symposium sessions, while also benefitting from the opportunity to celebrate and support dressage in Canada and network with industry experts and fellow dressage enthusiasts. Planning for the 2017 symposium is currently underway and full details will be communicated when finalized.
All EC sanctioned Bronze, Silver, Gold and Platinum Dressage competitions collect and remit $10 per horse entered in the competition to Equestrian Canada. Revenue generate from the Levy is used to support talent identification, personal development and the high performance teams representing Canada at major games.
Related Links
DeYoung, Helland, Koppeser are 2013 Dressage Canada Bursary Recipients
C-DAAP to Operate Independently of Equine Canada
Tanya Strasser-Shostak Awarded Inaugural Orion Cup
Markus Gribbe Appointed Technical Leader of Dressage Canada's High Performance Program