FEI Dressage News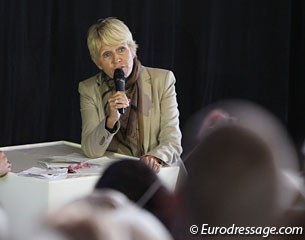 The brand new Degree of Difficulty system for judging Grand Prix freestyles will be applied at the 2017 World Cup Finals as well as the 2017 North American league world cup qualifiers in Wellington, Florida.
FEI Dressage director Bettina de Rham announced that the Dressage Committee has decided at its last December conference call meeting to implement the Freestyle Creator (Degree of Difficulty system)  at all CDI-Ws in Wellington in the beginning of 2017, as well as in the Final
The new Degree of Difficulty system, created by German judge Katrina Wüst and her business partner Daniel Göhlen, has by now been successfully used at 5 CDI-W qualifiers in Western Europe.
The DOD system has been 8 years in the making before it was first tested at the 2015 CDI Fritzens and later on at the 2016 CDI Omaha. With the Degree of Difficulty Freestyle Judging System riders have to insert their Kur choreography into an FEI database before the shows. The programs calculates the floorplan's degree of difficulty and what scores can be earned by riding at a higher degree of technical difficulty.
"The FEI IT department would contact all Dressage riders who had competed in World Cup qualifiers during the past three seasons with information on the system and dates when to participate in online information sessions," said De Rham. "All Judges officiating at the Final would by then be familiar with the system."
Photo © Astrid Appels
Related Links
Degree of Difficulty Freestyle Judging System Applied for First Time at 2016 CDI-W Odense
Wust's Degree of Difficulty Kur Judging Format Tested at 2015 CDI Fritzens
2016 Global Dressage Forum - Day One: Surprise FEI Revelations, Media and Sponsorship